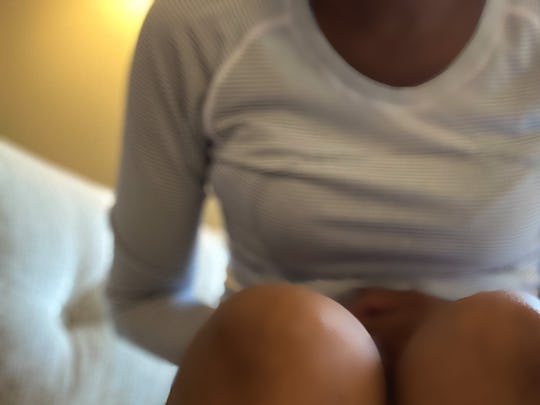 Catherine McQueen/Moment/Getty Images
35 Pregnancy Loss Quotes To Share With Someone Who Needs It
These are understanding, thoughtful, and supportive.
As many as half of all pregnancies can end in miscarriage, according to March of Dimes, and that number could be even higher since sometimes pregnancy loss happens before a mom-to-be even knows she's expecting. Sadly, that means you or someone you know may have to experience this loss at some point. And while it can feel like you're alone, know that there is a whole community of women who have been there too. If you don't know what to do for your friend, or what to say, consider sharing a pregnancy loss quote that makes her feel understood.
One way to begin healing from pregnancy loss is to find stories, articles, and quotes from other women about their pregnancy loss. Romper previously reported on Meghan Markle's essay in which she revealed she had a miscarriage in 2020, and other celebrities, like Michelle Branch, have been open about their losses as well. Hearing from other women about their journeys with grief and healing can validate your feelings, and help you figure out how to move forward when you're ready.
To Make You Feel Less Alone
One of the hardest things about miscarriage seems to be that it's just not talked about much, even though so many people have gone through it. That can leave you feeling isolated at a time when you should feel supported. Even if you don't know anyone personally who has been through what you're going through, you can always find pregnancy loss quotes from others to remind you you don't have to do this alone.
"Losing a child means carrying an almost unbearable grief, experienced by many but talked about by few." – Meghan Markle
"What does a miscarriage feel like? It feels as if you have been short-changed by nature. You will cry for what might have been but nobody will understand because they didn't feel it." – Unknown
"A miscarriage is a natural and common event. All told, probably more women have lost a child from this world than haven't. Most don't mention it. But ask her sometime: how old would your child be now? And she'll know." – Barbara Kingsolver
"It's amazing how much people hide it. They feel like, 'What did I do wrong?' But in so many cases you didn't do anything at all." – Giuliana Rancic
"'There is no heartbeat.' Four words. Four words to end the life I had. Four words to change who I was. It will never be the same again. I will never be the same again." – Kerin Lee
"A miscarriage is not a failure, because a failure implies that it's something you can control. Miscarriages are beyond our control." – Dr. Simone Whitmore
"At sunset the little soul that had come with the dawning went away, leaving heartbreak behind it." – L.M. Montgomery
To Support You When You're Sad
When you find out you're expecting, you imagine what this child will add to your family, start thinking about names, and you begin making room for them in your home and heart. So, don't feel any pressure to move on right away.
"It hurts because it matters." – John Green
"Grief is like the ocean; it comes in waves ebbing and flowing. Sometimes the water is calm, and sometimes it is overwhelming. All we can do is learn to swim." – Vicki Harrison
"There is no right way to grieve; there is only your way to grieve and that is different for everyone." – Nathalie Himmelrich
"There is a unique pain that comes from preparing a place in your heart for a child that never comes." – David Platt
"Grief is the last act of love we can give to those we loved. Where there is deep grief, there was great love." – Unknown
"Your absence has gone through me like thread through a needle. Everything I do is stitched with its color." – W.S. Merwin
"Grief, I've learned, is really love. It's all the love you want to give but cannot give. The more you loved someone, the more you grieve. All of that unspent love gathers up in the corners of your eyes and in that part of your chest that gets an empty and hollow feeling. The happiness of love turns to sadness when unspent. Grief is just love with no place to go." – Jamie Anderson
"Grief is not a sign of weakness, nor a lack of faith... it is the price of love." – Unknown
To Remind You Your Little One Matters
Sometimes when you're grieving, people say things they think will make you feel better, but are actually pretty hurtful. If you've experienced a miscarriage and someone has said, "At least it happened early," you know exactly how that feels. Whenever your pregnancy loss occurred, these quotes can help validate that your baby was real and important.
"Even those who never fully blossom bring beauty into the world." – Unknown
"Each new life, no matter how brief, forever changes the world." – Unknown
"I'll love for forever, I'll like you for always, as long as I'm living, my baby you'll be." — Robert Munsch
"How very softly you tiptoed into our world, almost silently, only a moment you stayed. But what an imprint your footsteps have left upon our hearts." – Dorothy Ferguson
"It hurts because it matters." – John Green
"You didn't stay for long, but in those precious few weeks, you changed me forever." – Zoe Clark-Coates
"A life need not be long-lived for it to be meaningful." – Unknown
"We talk about them, not because we're stuck or because we haven't moved on. We talk about them because we are theirs, and they are ours, and no passage of time can change that." –Unknown
"When a child is born, it is the mother's instinct to protect the baby. When a child dies, it is the mother's instinct to protect the memory." – Unknown
"There is no foot too small that it cannot leave an imprint on this world." – Unknown
To Give You Hope For Healing
As time passes, you might realize you're feeling more like yourself again. Eventually, you may start thinking about getting pregnant again, or maybe you've decided to wait a while. No matter how you're feeling, know that you're allowed to be sad, happy, excited, angry, and more all at once. And no matter how you move forward, you can always carry your little one with you.
"You are near, even if I don't see you. You are with me, even if you are far away. You are in my heart, in my thoughts, in my life, always." – Unknown
"As long as I can I will look at this world for both of us, as long as I can, I will laugh with the birds, I will sing with the flowers, I will pray to the stars, for both of us." – Unknown
"Sometimes the smallest things, take up the most room in our heart." – A.A. Milne
"A mother is never defined by the number of children you can see, but by the love that she holds in her heart." – Franchesca Cox
"I carry your heart with me; I am never without it." – E. E. Cummings
"You never arrived in my arms, but you will never leave my heart." – Zoe Clark-Coates
"Babies lost in the womb were never touched by fear. They were never cold, never hungry, never alone and importantly always knew love." – Zoe Clark-Coates
"What we have once enjoyed deeply we can never lose. All that we love deeply becomes a part of us." — Helen Keller
"You will survive and you will find purpose in the chaos. Moving on doesn't mean letting go." — Mary VanHaute
"There is no time limit to healing. You take as much time as you need." – S.L. Gray
When you love someone who is experiencing one of the worst times of their life, it can feel impossible to know what to say. Sending them a quote about pregnancy loss can help them feel like you're trying to understand and be present, and that's exactly what they need right now.
This article was originally published on