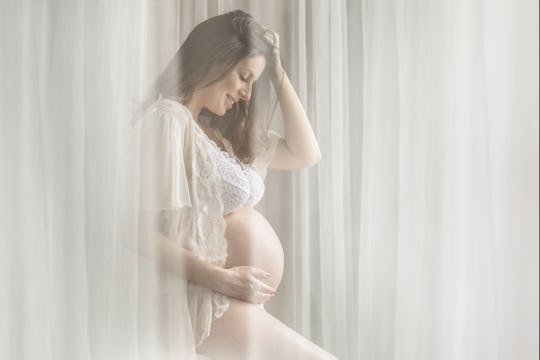 Peter Zelei Images/Moment/Getty Images
Where To Buy Sexy Boudoir Maternity Intimates For Your Photo Shoot
So you want to capture your body in all its pregnancy glory and you need some boudoir maternity lingerie. Not a problem. While generations past may have had to make due with muumuus, today's mama's have far more options when it comes to boudoir maternity intimates. Yes, sexy lingerie that can fit a big bump does exist, and in all colors, fabrics, styles, and sizes. In fact, there are so many brands now offering sexy boudoir maternity intimates for your photo shoot, you might have to spring for more than one outfit.
As it turns out, in addition to traditional clothing brands, small vendors also have a lot to offer in the boudoir maternity lingerie space. Just hop on Etsy and you'll see that handmade and homespun options are being made by small businesses all over the country. In fact, some can be made-to-order to fit your specifications. With all of these brands, the pregnant body is put first in order to showcase its beauty. And that should give you confidence as you embark upon a boudoir photo shoot. But before you book it, take a look at these brands offering sexy boudoir maternity intimates.
We only include products that have been independently selected by Romper's editorial team. However, we may receive a portion of sales if you purchase a product through a link in this article.
Find and buy sexy boudoir maternity lingerie for your photo shoot by shopping these brands. Then immortalize this special phase in your life with a stunning photo to remember it by.