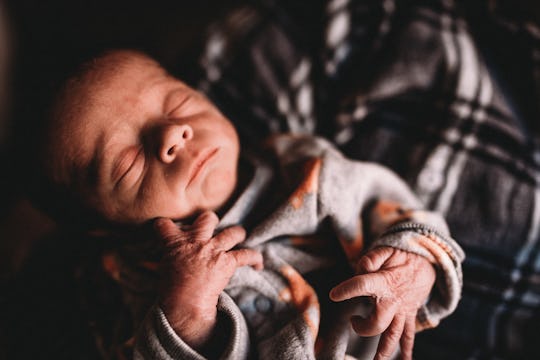 Jill Lehmann Photography/Getty
8 Spooky Old Wives' Tales About Babies Born On Halloween
Are they true? You never know.
There are a ton of old wives' tales about pregnancy. There seems to be a tale for every scenario, whether it's about heartburn or the way you carry. But if you're due in October, there are also some more specific old wives' tales about giving birth on Halloween that you just might be interested in knowing about, even if you don't generally consider yourself to be all that superstitious. Whether true or not, some old wives' tales and superstitions can be fun, even if you don't quite believe in them.
What Makes Halloween So Perfect For Old Wives' Tales About Babies?
Halloween in particular is kind of perfect for old wives' tales because the holiday has so much to do with spooky, creepy, mysterious, and supernatural themes to begin with. Old wives' tales are, more often than not, less about practicality and realism than they are about fear. Many, if not most, suggest that you do one thing in order to prevent another bad, scary thing from happening to you or someone you love. In the case of being born on Halloween, however, there's really not much you can do about it, except, I don't know, heed the old wives' spooky warnings? Basically if you're a Halloween baby, these old wives' tales just might explain, well, a lot.
This article was originally published on