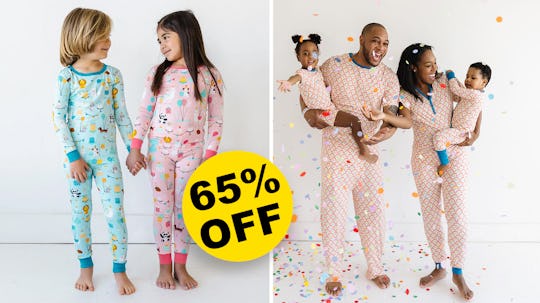 This Little Sleepies Sale Is A Big One — You Don't Want To Miss It
Stock up on soft pjs for your kiddos & the whole family.
We may receive a portion of sales if you purchase a product through a link in this article.
A few middle-of-the-night diaper changes will quickly recruit you to Team Zippered PJs — welcome to the club — and you know you've found a winner when they're super soft and cute, too. Little Sleepies zippered pajamas are a notable name in this category — they've already cemented their celeb-fave status with Serena Williams, Hilary Duff, and Lauren Conrad — and now's the time to snag cute jammies for your whole crew up to 65% off, because the mom-founded brand is having a rare sale. The long weekend sale is on right now and ends Monday, May 29, at midnight.
Known for their buttery-soft pajamas in whimsical and fun prints, Little Sleepies pjs and other faves, including tees and dresses, are massively marked down — but not for long. To snag the goods on sale, just visit the site before those sale prices expire — no checkout code needed.
And hey, you might be wondering — why aren't my pajamas this soft? Well, Little Sleepies has options for the whole family, pets included. And you can all match.
What Makes Little Sleepies Special?
All of the Little Sleepies pajamas and clothes are made of its signature bamboo viscose blend, a proprietary fabric designed for softness, breathability, all-season wear, and stretchiness for longer wear as kids grow. The brand's pajamas and clothes come in dozens of cute prints (and solids) and in a size range that's wider than a lot of other kid-friendly and family-friendly brands: micro preemie to 3X.
Shop The Sale
Alright, here are some more details you'll want to know about this sale. As mentioned earlier, Little Sleepies sales don't happen often, so you'll want to get in on the sale before it ends on Monday night. Prices are discounted ranging from 35% to 65% off.
Pro tip: buy the size up for next year as well, and you'll be all set for the next two holiday seasons.
The Zippy One-Piece That Grows With Baby
The Little Sleepies Zippy is made of bamboo viscose in the brand's signature blend with 5% spandex, which is designed to make it stretchy enough to really grow with your little one. According to the brand, these hypoallergenic pajamas can grow with your kiddo for up to three times as long as other jammies. Some standout features you'll love on this sleeper: a two-way zipper for convenient diaper changes; foldover mittens, even on larger 12-18 month sizes; and foldover bottoms to convert the pajamas to footies.
Helpful review: "My favorite sleepers for my little ones. The prints are adorable, but the quality of the product and stretch make them worth purchasing. The fact that they will last many many months to even a year or more because they are form fitting but stretchy makes them worth it, also so soft my babies and kids love them."
Available sizes: Preemie — 3T
This Matching PJ For Grown-Ups
Whether you want to get matching pajamas for siblings or friends or the whole family, the Little Sleepies matching bundler tool makes it easy to get everyone suited up. You can add each person by name to add their size to the bundle in your cart. This lemon nightgown in particular is so sweet — grab this print while it's on sale and before it retires — but pj sets are on sale, too.
Helpful review: "My family and I got this matching pjs set and we loved them so much that we got a set for the grandparents and a good family friend. Our kids love when we all wear them together and they are so comfortable, they are our favorite jammies to sleep in. We are looking forward to getting more matching sets in the future!"
Available sizes: XS — 3XL
This Cute Pajama Set For Toddlers & Kids
Just about every kid has an animal phase, and this soft, cozy pajama set is bound to be a hit with toddlers and kids alike. The hypoallergenic jammies are designed with a longer fit so this pj top and bottom will last a long time. And for easy pull-on wear, this long-sleeved top and bottom don't have any tags, buttons, or snaps. If your kiddo is into something other than animals these days, this pj set is available in dozens of other signature and limited edition prints.
Helpful review: "Love the pattern on these jams. So soft and comfortable, impossible to buy anything else!"
Available sizes: 12-18 months — 16
This article was originally published on