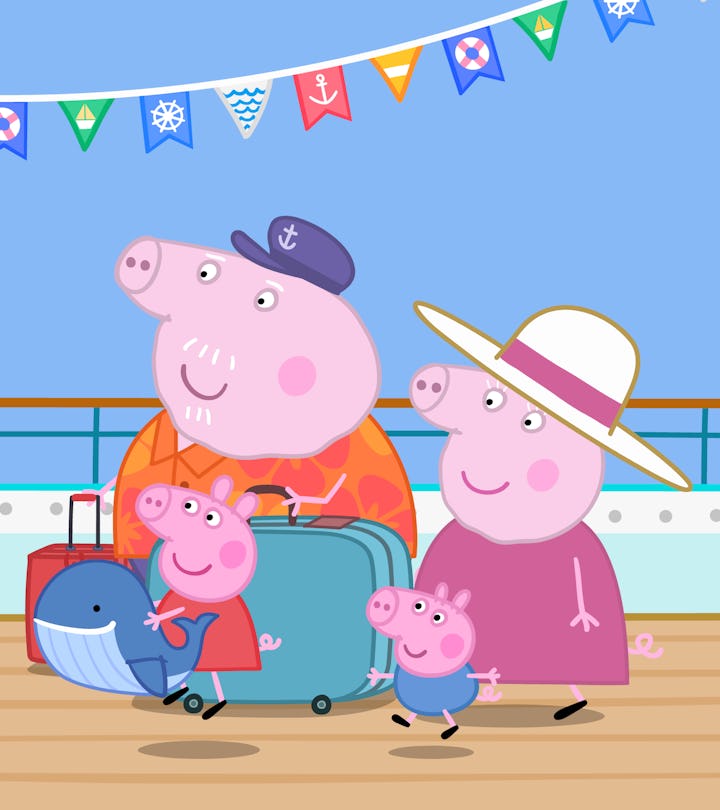 Hasbro
Peppa Pig Has A New Special & It Includes A Cruise — EXCLUSIVE
And, of course, there's a toy to go along with it.
My 4-year-old has many interests and loves, but Peppa Pig is still at the absolute top. It's why I can quote, word for word and snort for snort, nearly every Peppa Pig episode there is and I'm thrilled to share a new Peppa Pig special with my daughter this summer — a 4-part Peppa Pig Cruise Special.
Romper can exclusively reveal that Peppa, George, Granny Pig, and Grandpa Pig will be setting sail on Nick Jr. in a combined 20-minute special made up of four episodes — "Cruise Ship Special," "Holiday on the Sea," "Tropical Day Trip," and "Sailing Home." One episode per day will premiere on Nickelodeon at 9:00 a.m. EST from June 5 through June 8, with same-day airings on Nick Jr. at 7:00 p.m. EST. The full combined Peppa Pig Cruise Special will air on Friday, June 9. (Take it from me, the parent of a Peppa-obsessed child, it's best to watch each individual episode and then also the final combined special. And then just record the special so you can save yourself a lot of pausing and rewinding.)
Romper can exclusively reveal the trailer for the Peppa Pig Cruise Special and let me tell you, it looks very, very cute. This is the first time Peppa's ever been on a cruise (although we have seen her in Grandpa Pig's boat a lot), and we'll all get to see some familiar faces and new friends as she and George explore all the ship has to offer. Also, don't you kind of love that she's going with her grandparents? Makes me think of my own vacations with my granny and grandpa, and I think it's just the sweetest. Maybe the Peppa Pig Cruise Special can even be a date night for your kids and their grandparents to enjoy.
The special is the perfect summer entertainment as Peppa and her family travel for some fun in the sun and also explore all of the amenities the cruise has to offer, like a cinema and paddling pool. And if, like my 4-year-old, your kids like to post up in front of Peppa Pig with their own Peppa toys, there's an added bonus to this cruise special: Hasbro will be bringing Peppa's cruise to life with a 3-level toy boat.
Peppa's Cruise Ship will be available at all major retailers beginning August 1, and will come with 13 accessories and three character figurines so kids can act out their favorite parts of the Peppa Pig Cruise Special. (Or, you know, use their own imagination to turn the cruise ship into a pirate boat that has to quickly get through some major ocean waves before it capsizes.)
And like many of the Peppa Pig play sets, Peppa's Cruise Ship can be folded up for easy clean-up and easy carry.
Don't you want to join Peppa on one of those loungers? While we have to wait a bit for the new Peppa toy, I can't wait to enjoy the Peppa Pig Cruise Special with my 4-year-old. It's about time we get her to fall in love with a new set of episodes (the ones where Peppa goes to America have been her favorite for a couple of years now), and I love that it's summer and vacation-themed. So pop some popcorn and maybe grab yourself a Mai Tai and let Peppa whisk you off to sea starting June 5 on both Nickeloden and Nick Jr. *oink*