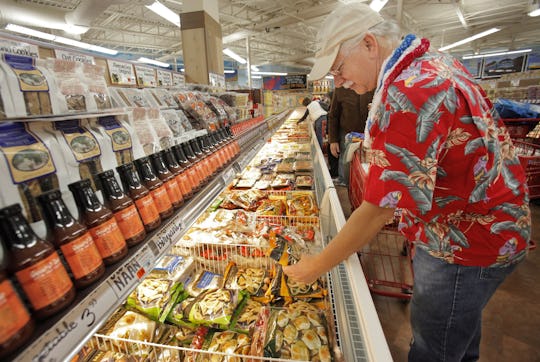 Portland Press Herald/Portland Press Herald/Getty Images
Head To Trader Joe's For All Your Thanksgiving Sides & Apps
My family and I are not going to do a huge Thanksgiving this year, so I want everything to be as easy as possible. To simplify things, I plan on finding everything from my family's turkey for appetizers and side dishes for Thanksgiving from Trader Joe's, because it's one of my favorite stores, and I am an inherently lazy individual. If I can buy everything from one or two stores, I am a happy person.
As I strolled the jam-packed aisles of my Brooklyn Trader Joe's I noted a pretty big theme in this year's offerings... butter. If you're afraid of the dairy fat of the heavens, than TJ's might not be your best bet this year. If, however, you want to fully embrace the indulgence of this holiday, than you have come to the right place. They have gratins and mashed potatoes, stuffing mixes and multiple types of croissant.
The cool thing about the Thanksgiving apps and sides you'll find at Trader Joe's is that you can really find anything to match how much time and energy you want to invest, cooking-wise. For example, there are some sides that need a little sautéing (in case you want to feel like you kinda sorta cooked them), to slice-and-serve apps, to even food that you can pop right into the microwave and onto a plate so you can focus on what's important: eating.
Now that's something to be thankful for.
This article was originally published on