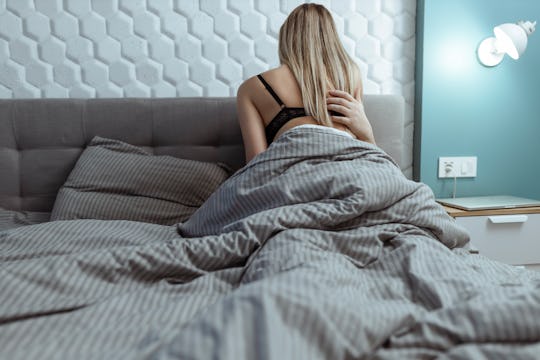 Ruslan Malysh / EyeEm/EyeEm/Getty Images
13 Signs Your Partner (& You) Are Sexually Satisfied
6. You agree on what "good sex" means to you both.
If you and your partner were stranded on a desert island, how much time would you spend doing it? If you answered 24/7, that's one of the signs you sexually satisfy your partner, and your partner satisfies you. But in real life, how can you tell if you're good in bed?
Maybe you're constantly wondering if your partner is having a good time. Maybe you're unsure if your man enjoys your sex as much as you do. You might even think that just wanting to know the signs your woman is sexually satisfied makes you needy. But that's far from the truth. While it's not a partner's job to "sexually satisfy" the person they are with, it's fine for you to want validation, sexual or otherwise. According to a 2017 study published in Consumer Psychology Review, the desire for maintaining a positive self-concept, aka validation, is one of the strongest sources of motivation in human behavior. Given that validation has positive effects on how you live your life (in and out of bed), there's no reason to get down on yourself for wanting to know if you sexually please your partner.
Just make sure you check your motivations for wanting sexual approval from your partner. When wondering about the signs he or she is satisfied sexually, are you wondering because you want a pat on the back for a job well done, or are you afraid that your partner might stray if you're not great in bed? Although many partners do cheat because the sex in their current relationship isn't satisfying, just as many people cheat because they lack emotional connection.
In other words, your sex life doesn't define the sum total of your relationship. And that old adage about communication being key in a healthy partnership holds true here as well. There's no harm in asking your partner about your sexual performance, but just note that sexual satisfaction will look different for everyone. "There is no one cast-in-stone definition of a great sex life beyond what you are happy and satisfied with, because people are different in terms of their sex drives, specific sexual desires, [and] their emotional lives as related to sex," Carol Queen, Ph.D., sex educator and staff sexologist at Good Vibrations, tells Romper.
"One way to get to an answer for any specific person or couple is 'know thyself (or selves)' — understanding your ideal sex life and compatibility comes from this level of knowing what is and isn't important to you," adds Queen. That said, you can still be on the lookout for the following basic signs that you sexually satisfy your partner.
You might not always recognize that the traits you have in life translate to how effectively you perform in bed. But they do, so have a look at yourself and not just your partner to gauge your sexual prowess.
Studies referenced:
Touré-Tillery, M., & Fishbach, A. (2017). Three sources of motivation. Consumer Psychology Review, 1(1), 123–134. https://doi.org/10.1002/arcp.1007
Lewandowski, G. W. (2021, March 22). The 8 reasons why people cheat. Psychology Today. Retrieved April 26, 2022, from https://www.psychologytoday.com/us/blog/the-psychology-relationships/202103/the-8-reasons-why-people-cheat
Fallis EE, Rehman US, Purdon C. Perceptions of partner sexual satisfaction in heterosexual committed relationships. Arch Sex Behav. 2014 Apr;43(3):541-50. doi: 10.1007/s10508-013-0177-y. Epub 2013 Aug 29. PMID: 23990145
Muise, A., Giang, E. & Impett, E.A. Post Sex Affectionate Exchanges Promote Sexual and Relationship Satisfaction. Arch Sex Behav 43, 1391–1402 (2014). https://doi.org/10.1007/s10508-014-0305-3
Pascoal, P., Narciso, I. & Pereira, N. Emotional intimacy is the best predictor of sexual satisfaction of men and women with sexual arousal problems. Int J Impot Res 25, 51–55 (2013). https://doi.org/10.1038/ijir.2012.38
Sources interviewed:
​​Dr. Martha Lee, D.H.S., relationship counselor, clinical sexologist, author, and owner of Eros Coaching
Carol Queen, Ph.D., sex educator and staff sexologist at Good Vibrations
This article was originally published on