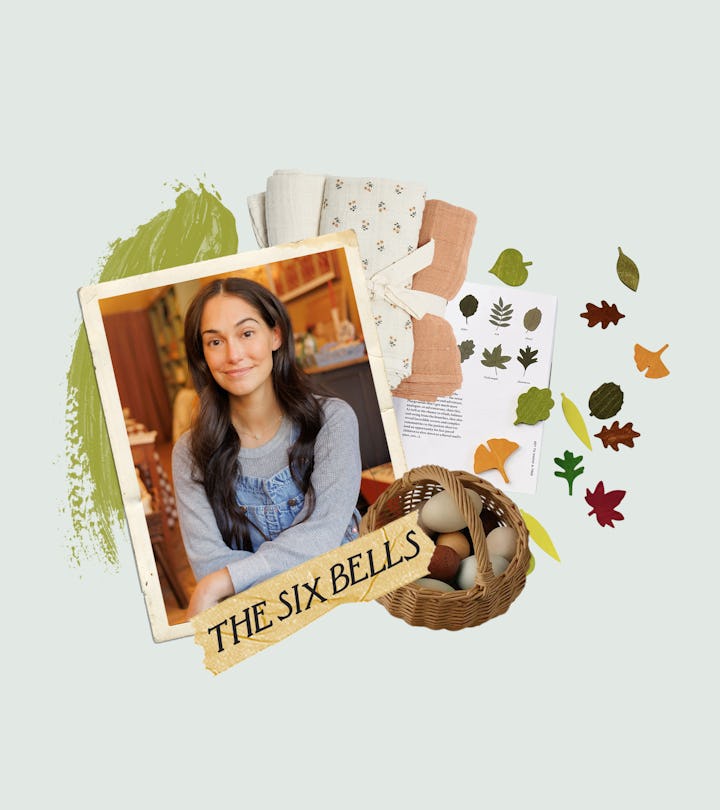 Audrey Gelman Knows You Want A Brit Country-Maximalist Nursery
Batten down your wallets, The Six Bells has kids' stuff now.
We may receive a portion of sales if you purchase a product through a link in this article.
The Six Bells is only about a year old, but the sweet little shop in Cobble Hill, Brooklyn has quickly become short hand in certain circles for its perfectly curated, British-country maximalist vibe. Whether you're already devoted to the "country store of homewares that come from a little world far away," or are new to the fictional world of Barrow's Green, it's hard to deny that Audrey Gelman has built something completely cravable with her latest venture.
You may remember Gelman, now a mom of two, from her past lives as founder of The Wing, a New York City political operative, and a bride whose glamorous 2016 wedding was featured in Vogue. As of today, she has added a line of baby and kids' stuff to The Six Bells' offerings. We got the scoop on the highly-curated selection of kids' goodies — a mix of antiques and modern classics — straight from the source.
Does this new line of baby and kids clothes and toys at The Six Bells reflect the changes in your own life? You just had a second child, right?
Yeah, she's 5 months old. So, I'm out of the woods a little bit!
Oh yes! I was always relieved when my kids were not newborns anymore.
She's sleeping through the night and my oldest is about to be four. So I feel like I can do more things.
Are the new Six Bells pieces things that you have in your own home?
There's a lot of muted colors and wooden toys and a sameness to a lot of the current kids' aesthetic that I didn't like. Some of it I loved, but some of it just felt like too homogenous, aesthetically, for me. When I was decorating my son's room I used antiques and a little bit of maximalism, like wallpaper and just a little bit of 'more is more,' which is in keeping with The Six Bells' product mix.
We talked about the wooden toy, the sort of neutral aesthetic, but there's the other side, right? The toys with the flashy lights, lots of colorful plastic. Are there any toys you really can't stand in your house? Are there things that you are really just like, no, this cannot come into my house?
I would say this extends not to just toys, but to shows and TV. We watch shows that I watched as a kid. I can't do Blippi and Paw Patrol — they're so overstimulating, they're so loud. A lot of the time we watch like the Richard Scarry Busy Town shows that I watched when I was 5. They're amazing, and they're on YouTube. And yes, there are definitely toys that are just too loud and I just need to take it away and secretly throw out the battery.
What was your process of deciding what would be included in this new collection?
The process of discovery and finding really cool brands is the thing I love the most about the business. Because it's the first time that we're introducing the category, we didn't want it to be a massive, overwhelming number of products and brands. We knew we wanted to have one of each thing. We had to just choose, and go with our gut. That's a lot of the process of curation. We didn't want it to feel overwhelming. But if people are into it, we'll start expanding and adding more.
There were plenty that I'd never heard of before and that I didn't have in my own home, but things like the Poudre organic line are things that I had. Then some things are for older kids, like the crafts — needle point kits, or the sheep rug hooking kid, or potholder loom — are things that, frankly, I'm playing with a little bit.
I'm so curious about that! Do you do needlepoint? Looms? Tell me more!
My mom is really into needlepoint and has been trying to get me into it for like 28 years. But no, I'm not, but I think it's a great, fun thing. I watch a lot of baseball and need something to occupy my hands, so I'm considering it. But I think that's really fun for an older category of kids. We also have two books by this British illustrator, Alice Melvin.
There's so many wonderful kids books out there. I'd love to know what drew you to those?
They're not the staples that everyone has. I hadn't heard of her or these books. A friend gave them to me as gift and I just like totally fell in love with them. She's great. They're very British and country-inspired, and they're pop-up and interactive books, too. I just really love them, and I read them to my kids.
One of the signatures of The Six Bells is that you sell a lot of antiques along with the newer pieces. It sounds like that is part of your own aesthetic.
I mean, the antiquing part is just my version of me time. 'Me time' for me is not going to get a massage. It's going to central Kentucky on an antique trip and going to huge peddlers' malls. That's just a fun process that's all about hunting and discovery. With the new brands, we found a lot of them on social media, but some have a tiny amount of followers or are selling with us in the US for the first time. They come from like all over the world — Tripoli and the countryside in France.
A lot of them are also older brands that have really incredible processes that they go through and they've been doing for hundreds of years. I was on a trip in Austria and I walked into this store in Salzburg that only sells Christmas ornaments, and they had like a hundred thousand hand-painted eggs. So I spent weeks on the phone trying to translate and figure out how can we import these?
How do you think being a working parent of two has impacted your perspective as a leader and business owner?
The scale and the size of this business has really allowed me to be more of a present and engaged parent. It's extremely hard for moms. They face this un-winnable challenge if they have huge careers, which obviously we want women to have. So, truthfully, I think that the size and scale of the business has allowed me to be the mom I want to be. And that is amazing, and a gift. With my past business at The Wing, we created childcare centers as a part of it, and that was a thing that we really wanted to do, to allow moms that were working to be able to do both. But yeah, it's nice to be home by 5 and not 9:30, you know?
Yes! Does your partner work as well?
He does, yeah. He's a therapist. He's was a tech founder before, and so it's been a really great transition for both of us to be in careers that are a bit of a different pace.
Oh yeah, that sounds like a big scale-down. I mean, parenthood often demands that.
Yes, yes it does.