Come On, Barbie, Let's Go Party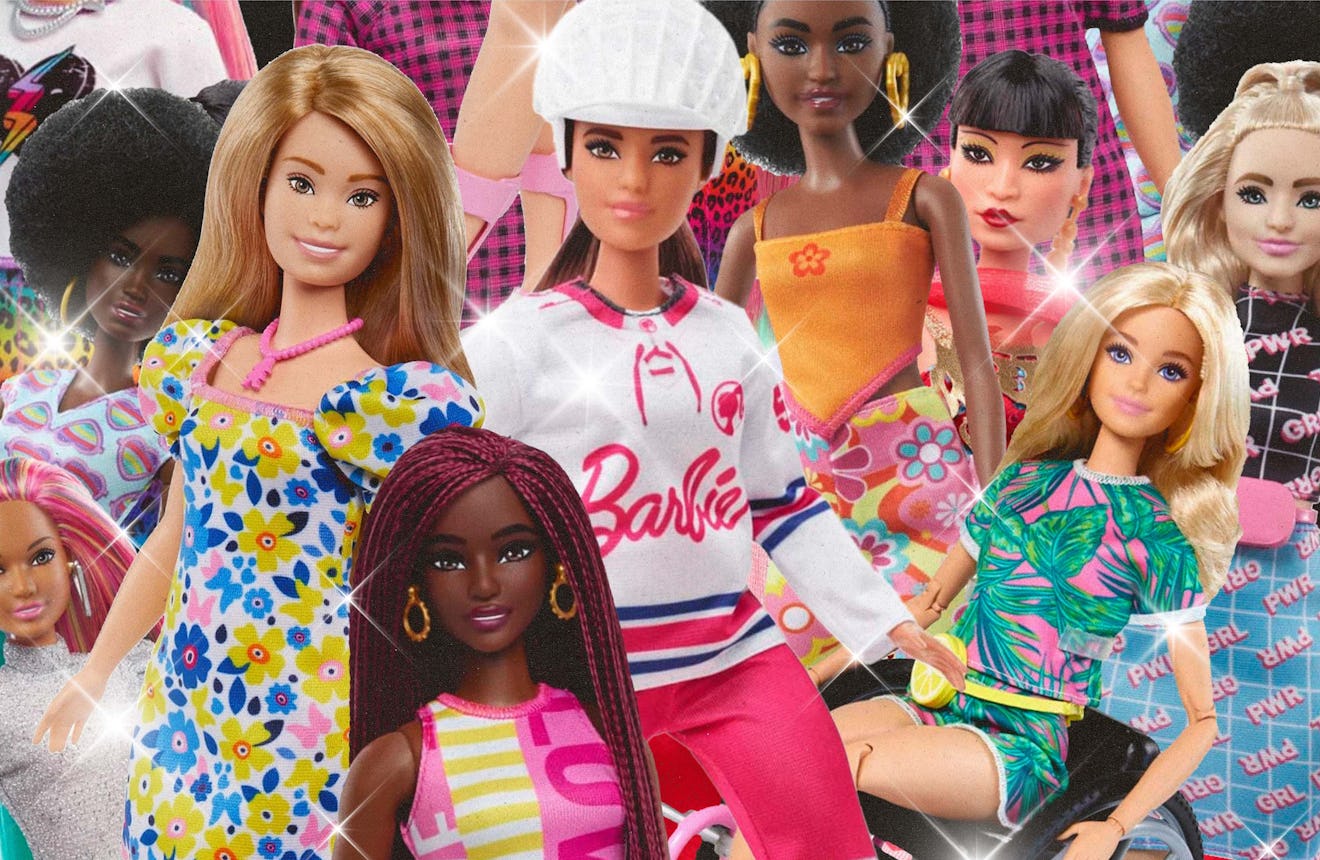 In Defense Of Barbie
Sure, she's (literally) plastic (it's fantastic!), but Barbie is a girl who gets sh*t done.
I was an absolute Barbie Girl as a kid. And I don't mean I always wore pink and wanted high heels and dreamed about being a fashion icon as an adult. I just mean I had a ton of Barbies. I kept them in an ancient suitcase of my parents under my bed, and I played with them all the time. Like, way beyond the time you're "supposed" to stop playing with dolls. My Barbies were from the late '80s and '90s, so they were all blonde (except for the ones that were actually Barbie's BFF Teresa), they all had cinched waists and long legs, and they were all impossibly perfect. And this is not what I remember about Barbie. If she somehow contributed to my own thoughts and ideas about my body, I didn't notice.
Instead, my Barbies were letting me live out every fantasy I'd ever had — my Barbie was a mom (Skipper, Stacy, and Chelsea were never her sisters, but her merry band of daughters) with Ken hanging around (acting merely as a figurehead, unless he was the Ken whose beard I could shave, and then he was always getting a nice smooth face) while she went off on her many adventures. She was a teacher, she was a pediatrician, she was President of the United States with a podium that she would stand behind right on the outskirts of her dental practice.
But a lot of people didn't see Barbie the way I did. And they still don't. There are plenty of parents who put an all-out ban on their daughters playing with Barbies. There are articles that suggest Barbie dolls negatively affect how children look at their own bodies, and that you should arm them only with "realistic" dolls that are an "accurate representation of a woman's body." There was once talk about banning Barbie for the sake of girls everywhere.
While everyone was focused on how Barbie looked, nobody was paying attention to all Barbie was accomplishing — which is honestly, a little too real.
And yet, magazine covers continued with diet tips and articles on how to please your man in bed. There are entire social media threads of women and men arguing that Lizzo is a disservice to the world because she doesn't represent a "healthy" body. The AAP's new obesity guidelines for children literally suggested bariatric surgery in kids as young as 11. I don't think Barbie is the one to blame for our obsession with thinness and perfectly made-up women who are always smiling — we were already at that point. It's why, for a time, she reflected a kind of American ideal – thin, blonde, white, able-bodied, owns a lot of cocktail dresses — one that I'm glad (for my kids' sake, all kids' sake) we are complicating and expanding on.
Blessedly, Barbie has gotten better since the '90s: kids looking for Barbies now can find the dolls in different shapes and sizes, skin tones, and abilities. And my favorite part is that those Barbies aren't included in some limited edition line with some name like Everybody is Special. A Barbie with alopecia sits right on the shelf next to the traditional Barbie silhouette with blonde hair and then on the other side is an astronaut Barbie with a prosthetic limb. There isn't a giant endcap at Target with a "Barbies of the Rainbow" banner or "Hey, Look! Barbie Has A Wheelchair!"
While everyone was focused on how Barbie looked, nobody was paying attention to all Barbie was accomplishing — which is honestly, a little too real. Sure, she's (literally) plastic (it's fantastic!), but Barbie is a girl who gets sh*t done. Dog groomer moonlighting as a pizza chef; NASA engineer that plays guitar; pediatrician driving an RV camper on the weekends — who is doing more with less than Barbie?
Why do we hold her to such a high standard? Are there studies done on how GI Joe action figures promote war in children? Has anyone ever looked at Captain America — who is literally CHEMICALLY ALTERED from a short, thin Brooklyn boy to a hulking, six-pack-having hero — and wondered what we're projecting onto young boys with that? Barbie is literally a toy, and the fact that she's marketed towards girls makes me think all of the hate she receives is a lot of misogyny disguised as virtue signaling.
Barbie didn't set unrealistic expectations — Barbie defied our expectations.
Barbie is meant to be fun. Kids want to play with her and make her do things and act out their own stories in their head. She has ambitions and goals and for the love of God, she's helping raise a whole bunch of little sisters on her own. She is more diverse than ever, and the brand continues to expand that inclusivity and representation with every new set and doll. Why can't we just let our children enjoy her without nitpicking her to death?
Nobody gifts their child a set of Melissa & Doug pretend cleaning supplies with the idea that their child will grow up to be a janitor. (Which is absolutely fine, but not why people are putting it under the Christmas tree, you know?) I haven't kept this set for five years, moving it from room to playroom and back again, making sure they have space to play with it so that they can practice being a cleaning influencer on Instagram. I kept it so they can feel confident in hopping on the broom like a witch with the little spray bottle hanging from their wrist, being used to spray potions as they fly. It's the entire point of pretend play. To ignore Barbie's waistline in favor of making sure she's all set to bake a pie in the DreamHouse kitchen before she gives the State of the Union address as POTUS.
I love Barbie. I've been a Barbie fan since I was a child, and now my girls love Barbie, too. They are privileged, as white girls, to themselves represented everywhere, but they also get to live in a world now where Barbie isn't synonymous for thin, white, and blonde. They have Barbies with wide hips and Barbies with caramel-colored skin. Their Barbie with a prosthetic limb throws epic dance parties on the top floor of the Barbie DreamHouse (which is ADA compliant, by the way), and their Barbie with Down Syndrome runs the ballet studio. Their Barbies chase every dream and idea they've ever had, from headlining a concert that sold out faster than Taylor Swift to treating premature babies in the NICU.
Barbie didn't set unrealistic expectations — Barbie defied our expectations. Isn't that the point of pretend play for children?