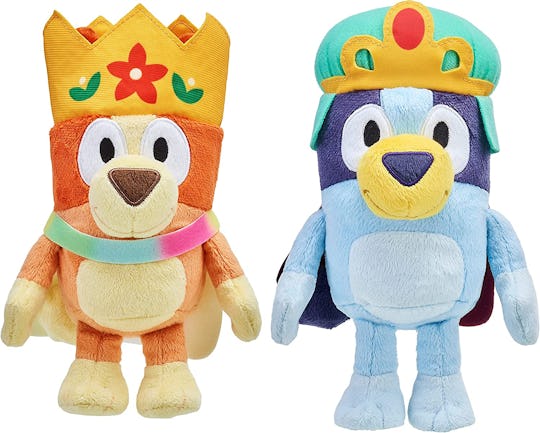 Amazon
These Are The Bluey Gifts On Every Kid's Wish List
To know Bluey is to love Bluey.
We may receive a portion of sales if you purchase a product through a link in this article.
Move over, Paw Patrol. There's a new top dog in the toy store and her name is Bluey. If your little one can't get enough of the Australian kids' show that has captured the hearts of so many, these are the best Bluey toys and gifts to give them. Whether you need something for the holidays, to give as a birthday gift, or anytime you purchase a present, these Bluey toys are exactly what they'll want to unwrap.
Drawing inspiration from real life, Bluey encompasses everything sweet and hilarious about childhood and parenting young children. Bluey (age 6), and her sister, Bingo (age 4), are the offspring of their Blue Heeler parents. Bandit, aka Dad, is an archaeologist, and Chili, aka Mom, works in airport security. The episodes are incredibly silly, relatable, and digestible (read: short). Even the episodes without dialogue (check out Sleepytime from season 2) are captivating and thought-provoking.
Naturally, young fans of the show will want to recreate the antics of Bluey and Bingo, and these appropriately-themed toys will help them do just that. Are they partial to Rita and Janet, Bingo and Bluey's cheeky "Granny" characters? Or perhaps the Shadowland episode inspired them to play the outdoor game in their own backyard. Even the littlest fans under 3 can enjoy various plush options out there, from simple plush dolls to more complex dancing dogs.
Maybe they haven't picked up an Australian accent just yet, but if your kids watch Bluey on repeat, these best Bluey gifts are worth taking a look at. From plush toys to play sets and everything in between, here's what to get for kids who are fans of Bluey.
Whether your little one has just discovered their love for all things Bluey, or you need something new to add to their collection this year, these Bluey toys really do make the best gifts for fans of the show.
This article was originally published on