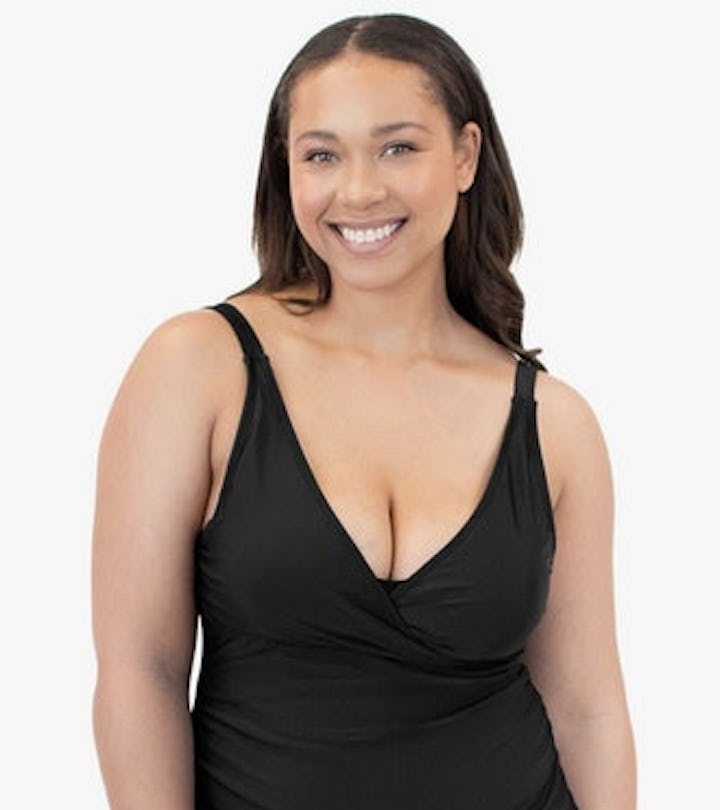 Kindred Bravely
New Moms Will Feel Fabulous In These Postpartum Swimsuits
Wearing one will feel like a day at the beach (or pool).
Shimmying yourself into a swimsuit can be all the more challenging when you're trying to get one that works with your postpartum body. But once you have said swimsuit on, you may find that it's not meeting your newborn momma needs like those two-pieces of the past did. That's when having a plethora of postpartum swimsuit options that are stylish and functional can make you feel beach-ready.
But before you break out your old bikini, it's important to assess what you'll need from your swimsuit. Does it offer easy access to your breasts if you're nursing, or is it a swimsuit that is soft on your C-section incision? "Lots of lactating parents like a top that's super stretchy which can be easily pulled down or to the side or a bandeau with no straps for easy access," Jada Shapiro, a doula and founder of boober tells Romper. "If you gave birth by cesarean and like a 2-piece, you'll likely prefer a higher waisted suit which doesn't sit directly on your incision to avoid any irritation to the scar." And, as Shapiro points out, covering your scar if it's still healing is also important to minimize sun exposure.
You might also want a swimsuit that offers tummy control without feeling too constricting. "If you are feeling a little mushy and soft in the belly (and aren't we all after having a baby) and you want a little extra support, you might like bathing suits with layered fabric or some ruching to give a little extra hold," says Shapiro. But most of all, your swimsuit should be something functional, makes you feel beautiful, and is kind to your post-baby body.
So try on these postpartum swimsuits which will make wearing one, well, a day at the beach (or lake, shore, or pool).
We only include products that have been independently selected by Romper's editorial team. However, we may receive a portion of sales if you purchase a product through a link in this article.
With so many options on the market, you're sure to find a suit that looks and feels great, no matter where you're at in your mothering journey.
This article was originally published on