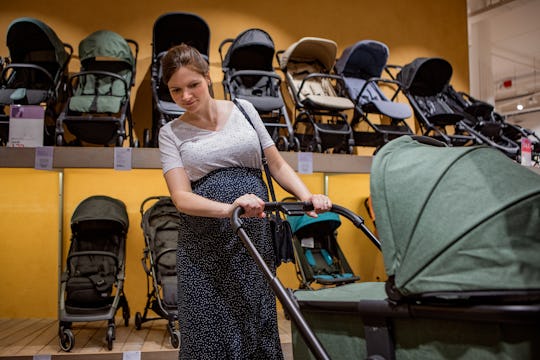 Lorado/E+/Getty Images
Baby Stores Were Our Entry To Parenthood. Now They're All Disappearing.
Heading to a baby store when you're pregnant is like entering a whole new world. What now?
The first time I had a positive pregnancy test, all I wanted to do was go to the baby store. Finally, I thought. I'm allowed in. I could push strollers up and down the aisles. I could hold up impossibly tiny footed pajamas and daydream about my own baby filling them out. I could sit in the gliders and rock the ottomans and even sing nursery rhymes under my breath. It was a pregnancy milestone I just could not wait to experience, and I even looked forward to feeling a little overwhelmed at the wall of bottles and pacifiers. But with buybuy BABY officially closing its stores, just five years after Babies "R" Us shut down, it feels like this dreamy parenting moment, this first step in nesting and prepping for baby, is lost.
I know, there's Amazon. And Target and Walmart still have baby "sections" and there are a million Instagram and TikTok influencers ready to give you their opinions on the top 10 space-saving strollers (Romper has some recommendations too, of course), but it's not the same. There was something so thrilling about finally being "allowed" in one of those stores. Of being able to look at the car seats and imagine your own baby in there. Or getting a little scanner and registering for hooded bath towels and packs of burp cloths. Or asking your partner which rocking chair he liked the best, because he said he'll take the night feedings. Or waving down a sales associate to ask them the difference between the wrap baby carriers and the structured carriers.
I'm not the only one feeling melancholy about this. "The demise of buybuy baby is so sad. One of the few places we risked going to while we awaited our pandemic baby," one Twitter user shared. "Babies deserve to have stores," another wrote.
In the Baby Bumps subreddit, parents took to the comments to express their sadness and anger about buybuy BABY closing. "This seriously pisses me off. All of the specific maternity and infant stores are gone at this point. The only option is online shopping or the small sections at target/Walmart. Where can you go to see a variety of things and learn about them?" Reddit user jackel0pe wrote.
User lifeisabeach16 replied, "As a first time expecting mom during the height of COVID, I totally feel this. Buy Buy Baby was the only baby store in our area and I was so thankful for the one maternity experience that I didn't miss of getting to see and ask questions about car seats, strollers, baby carriers, and all in person. I'm not sure how I would have gotten through the maternity and newborn stages without this store."
And Reddit user century1122 shared exactly how I'm feeling: "They were always priced higher than most other places, but it's literally the last remaining brick and mortar baby store, so it's just a strangely sad event for me to see them closing. I think because it reminds me of that exciting time of being pregnant with my first and creating a registry and feeling all of that anticipation of having my first baby."
Expecting parents also complained that they had buybuy BABY gift cards they now needed to use, and were unsure of what to purchase. Many users shared their frustration with the website and that certain stores had told them their gift cards would be unusable in the next few weeks.
The closing of buybuy BABY closing impacts many expecting parents who were close to finishing out their registries, but now can't find any of the items they wanted on the website or in the stores, as shelves are emptied by shoppers looking for deep discounts.
Buybuy BABY is another casualty of the digital age, an age of online shopping and social media platforms where you can buy everything with one click thanks to extremely specific and targeted-to-you ads. But as Amanda Mull wrote in The Atlantic, by losing these brick-and-mortar stores, we lose so much. Gone is the ability to touch everything you buy, gone is the social and community aspect of shopping. Instead of getting to try out six or seven strollers and see which one feels best, parents can now only hope that Target or Walmart has one out of the box, and even then, they have to hope it's a brand they even wanted. While there are and will continue to be some small businesses that specialize in baby products and gear, they aren't everywhere, and still may not have the selection that a retail giant like buybuy BABY had.
Online reviews aren't always enough, and there's something so fulfilling about actually driving to a store, walking inside, and seeing all of the products you're looking for there on the shelf — and discovering new things you hadn't even known about. For those expecting, I'm so sad that they'll never have this experience. Of entering a world created just for them, of getting to marvel at all of the things they've always wanted to see and touch and use. Of getting to pull back the curtain and find the beginning of motherhood glimmering there on the shelf.