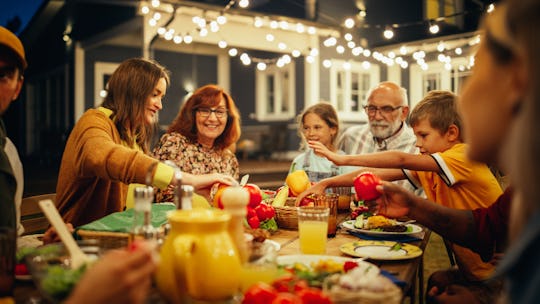 Shutterstock
17 Easy Potluck Recipes To Impress Your Friends
They will totally ask you for the recipe.
'Tis the season for warm weather, outdoor activities, and gathering with your best buds to eat, drink, and be merry. Yup — it's officially potluck season. And that means you need a list of easy potluck recipes ready to go the next time you get invited to a friend's house for a pool party.
The thing about a potluck party is that everything somehow just goes together. If someone's making chicken or hot dogs or burgers as an entree, every kind of pasta salad, dip, and side goes together with those. If someone just wants a table of heavy apps and desserts, then you can't go wrong with literally any of these potluck recipes. And if someone's throwing a potluck that has zero rhyme or reason and is just a mixture of entrees and sides and appetizers, well, you guessed it: these easy potluck recipes will work.
Some of these potluck recipes require a little more work than others, and some are super easy to throw together, but all of them will look super impressive and have you winning the potluck. (Oh, you don't cook to win?) And if you somehow end up with leftovers, you'll be happy to bring your Tupperware back home and eat the dip or potatoes or chicken bites the next day. (Unlike bringing home half-melted JELL-O or something.) Just pick your favorite potluck recipe on this list and get ready to enjoy eating with those you love.
Whether you bring a sweet potluck recipe or a savory one, everyone's going to ask you for a copy of the recipe. Just pick your favorite and get ready to be the star of the party.