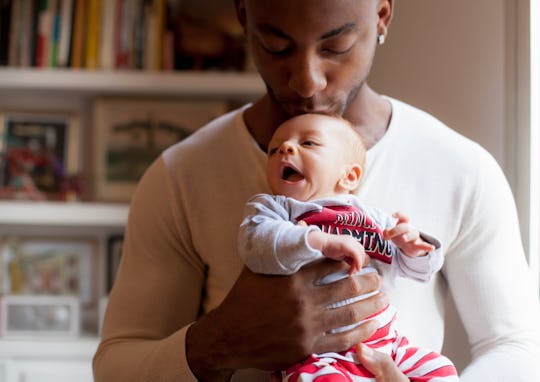 Kathrin Ziegler/DigitalVision/Getty Images
32 Quotes To Share With Your Superstar Husband This Father's Day
They'll def make him cry.
This Father's Day, you're likely thinking about how to make the dad in your life feel appreciated. Whether scrawled by hand in a card or splashed across social media, a Father's Day quote from a wife to her husband can tug on his heartstrings in a way not much else can, aside from the sentimental mush he can become around his children.
In many homes, Dads is the hero. They come running when they hear a scream, raise the children up high so they think they can fly, take care of the heavy lifting, and are the metaphorical rock that the family can depend on. Hearing how much he is appreciated, and that the family is grateful to be able to depend on him, will recharge his battery. And we could all use a little love and renewal every now and then.
Having the right verbiage, or that gut piercing quote that fits perfectly in that space in his heart carved out for his family is an irreplaceable moment you don't want to pass up. Pair those meaningful words with breakfast in bed or a day spent doing something he loves, and you have a gift perfectly crafted for him this Father's Day.
This compilation of Father's Day quotes from wives has a little something for everyone, so you'll definitely find the perfect way to tell him how much he means to your family.
Words have so much weight and these aren't just quotes. They are meaningful sayings that your husband needs to hear. You can level up by not just using a quote in a card, but writing down a few that he can find in random places throughout the day! Knowing he's seen and appreciated will fill his heart this Father's Day.
This article was originally published on