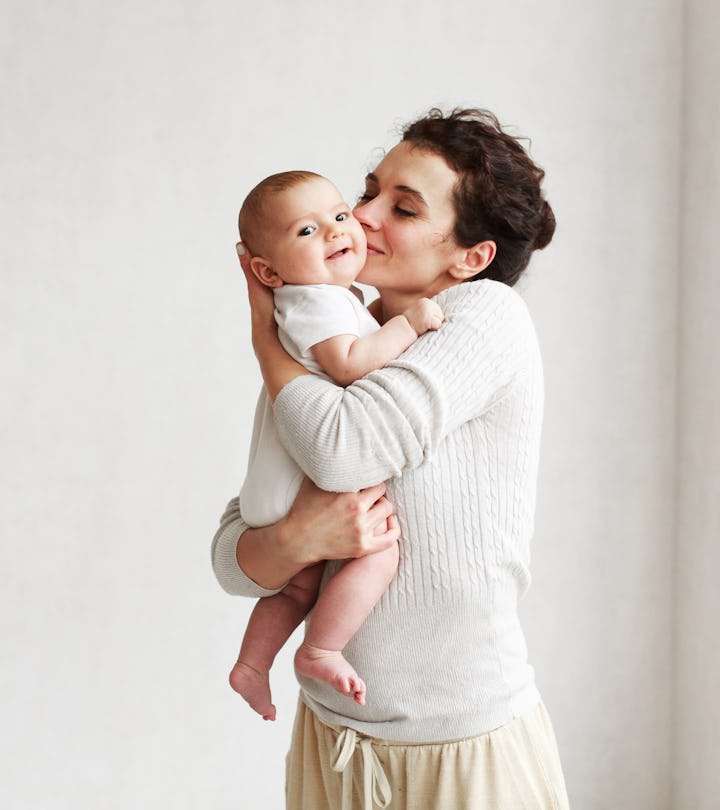 Vera Livchak/Getty images
These Adorable First Mother's Day Onesies Will Make Your Photo
This is a moment to savor in style.
Making it to your first Mother's Day is a big milestone. It signifies surviving so many sleepless nights, sore boobs if you were breastfeeding, (or an insane amount of baby bottles that were washed), and a blur of 3 a.m. diaper changes. And yet, you're both happily here. Depending on when Baby was born, you might have already witnessed the mini miracles of that first smile, a real giggle, maybe even crawling and actual first steps. So many moments to savor and celebrate, which is why you need the cutest first Mother's Day onesies to honor this momentous time in both your lives.
You're bound to snap a lot of pics of your baby on Mother's Day, especially if you're a new parent, and you'll want them to be as stylish as possible. And while themed outfits might not be your thing, you're definitely going to want an ensemble that commemorates the occasion. Because even though you and your little one will get to share many Mother's Days together in years to come, you only get one first one. And when you're looking back at photos of your child, you'll always know that this was the day when you got to share the festivities together, because really, you couldn't have done it without each other.
Plus, Mother's Day onesies for babies are just really, really cute — just like the ones you'll see below.
We only include products that have been independently selected by Romper's editorial team. However, we may receive a portion of sales if you purchase a product through a link in this article.
Your first Mother's Day should be a moment of pride for both you and your Baby. So dress them up in a onesie that showcases this amazing moment in time — that is, before they can complain about the clothing choices you dressed them up in when they were little.