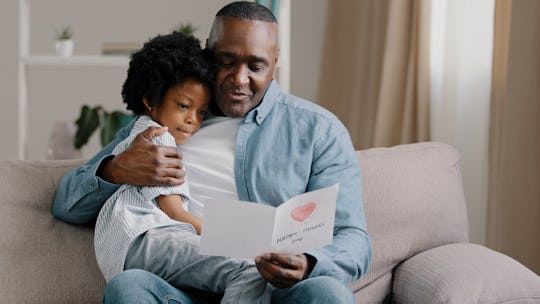 Shutterstock
These Sweet Printable Father's Day Cards Are Totally Free
Just make sure that you have enough ink to crank out these cute cards.
We may receive a portion of sales if you purchase a product through a link in this article.
Billions of greeting cards are purchased annually. While store-bought cards can be cool, there's something to be said about revving up your printer, filling it with some plain paper, and selecting a card online to customize with not just color, but your own sentiments sweetly expressed as well. And with Father's Day coming up, you can score some free printable Father's Day cards that Pops will be so pleased with.
Another winning trait about printable Father's Day cards is that they're a huge time saver. After all, you may have forgotten to cruise through the card aisle and pick up one for your dad — and might not have the opportunity between Saturday evening and Sunday morning of the big day to run out to the store for an inconspicuous errand. They're also ideal for little kids who might want to make their own cards for Daddy or Grandpa who might be too young to write out their own messages, but would love the opportunity to exercise their coloring skills. And as long as you have enough ink, your kiddo can crank out as many cards as they want without wasting $4 or more per cute card. Because why give one card when you can gift a few with your child's sweet handwriting?
So peruse this virtual selection of free printable Father's Day cards that are sweet, sentimental, and funny and don't forget to fill it with a sweet Father's Day message and pair it with a great Father's Day gift.
You don't have to spend a fortune on Father's Day, especially when it comes to cards. Download and print any one of these free printable Father's Day cards and customize them with your own words or additional artwork from the kids. It shows that love (and these printable cards) are absolutely priceless.
This article was originally published on