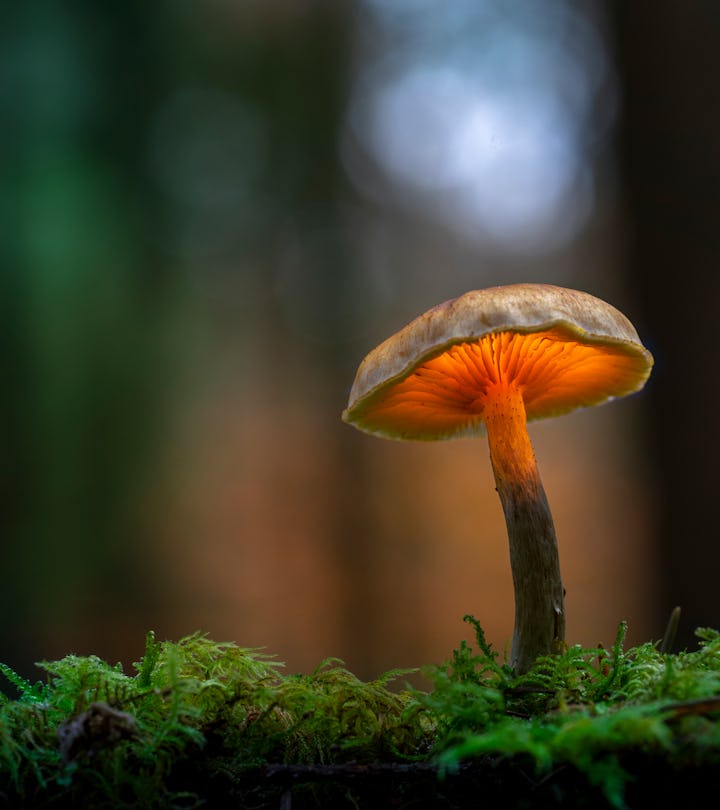 Karim Qubadi / 500px/500px/Getty Images
15 Delicious & Functional Mushroom Coffees, Chocolates, Powders & Tinctures To Try
Make some roomy for these 'shroomies.
We may receive a portion of sales if you purchase a product through a link in this article.
If you're curious about adding adaptogens to your life, these functional mushroom supplement products are a fun, and often delicious, way to try it out. Whether you want to swap mushroom coffee for your usual morning brew, blend an adaptogen-laden powder into a smoothie, or just pop a 'shroom mint (but not that kind of 'shroom), there's a functional mushroom brand that's got what you're looking for. And no, they're not psychedelic at all — these functional mushroom products won't make you trip.
What are functional mushrooms?
Before you dive in, it's important to consider which functional or 'adaptogenic' mushroom suits your fancy. Adaptogens are nontoxic substances, and "especially a plant extract that is held to increase the body's ability to resist the damaging effects of stress and promote or restore normal physiological functioning," or so says Merriam-Webster, who we're turning to because the term itself is somewhat murky. These five mushrooms are the so-called adaptogens you'll see most often in functional mushroom products, and have been valued in non-Western cultures for their healing properties for millennia:
Cordyceps
Lion's mane
Reishi
Chaga
Turkey tail
What do functional mushrooms do?
Clinical research around functional mushrooms is still evolving, but mycologist Dr. Jessie Uehling, an assistant professor in the department of botany and plant pathology at Oregon State University, about the potential benefits of fungi, is was quite positive about their possible healing or supportive properties. "We know that functional mushrooms help with all sorts of thing — from relaxation to sleep, to energy, to blood flow and [they have] antimicrobial properties. But how they work is unknown," Uehling explains. "That puts us in an interesting gray zone, because, in our culture, moving things through regulatory processes, depends on understanding that. You're seeing companies like these pop up, and they're making (it seems like) high-quality products that are probably going work like they say they do. But it's interesting that — at least in our cultural framework — that we don't really know how they do. There's a lot of research that will be done in the near future trying to understand this better."
If you're mushroom-curious, here are the functional mushroom brands we've got our eyes on right now.
Whether or not these functional mushroom coffees, chocolates, tinctures and powders are the wellness superheroes that their makers believe them to be, they're lovely to look at, great for gifting, and — for the most part — as delicious as they are beautifully-packaged. Plus, if you're looking to replace alcohol with a different kind of wind-down tipple, many of these drinks offer a great, certainly healthier, alternative to booze.
Expert:
Dr. Jessie Uehling, an assistant professor in the department of botany and plant pathology at Oregon State University