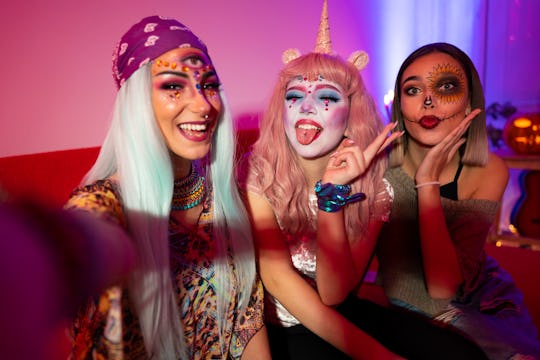 SrdjanPav/E+/Getty Images
Even Your Teen Will Think These Halloween Costumes Are Cool
Make sure they let you take pictures.
When your child is little, Halloween is such a big deal. That's why your kid might beg to wear their outfit at dinnertime, during playtime, or even on a quick trip to the grocery store. Sometimes, though, all of that changes when your toddler seemingly turns into a teen overnight, and the thought of getting dressed up is so childish. But these Halloween costumes for teens can make even the most cynical teenager want to channel their inner baby Yoda.
What will your kid dress up as? What you'll notice right away is that Halloween costumes for teens are totally different than the ones you might be used to shopping for. Some show a little more skin, while others are gory and gruesome. And then, there are the silly ones, like your child dressing up as a joyful Jolly Rancher or a Hershey bar. There are always the classics, like a mummy, werewolf, or a zombie, but then there are more current costumes like Stranger Things or characters from Squid Game.
No matter what costume your child comes up with, a word to the wise: just click and add it to your cart. Because when your teen decides that they want to dress up for Halloween, (and be a kid again, even for one night), it's something spooktacular that you'll want to celebrate.
We only include products that have been independently selected by Romper's editorial team. However, we may receive a portion of sales if you purchase a product through a link in this article.
Grab your credit card and settle in for a little online shopping with your teenager. With these Halloween costumes for teens, you can get started on finding them the perfect ensemble.
This article was originally published on