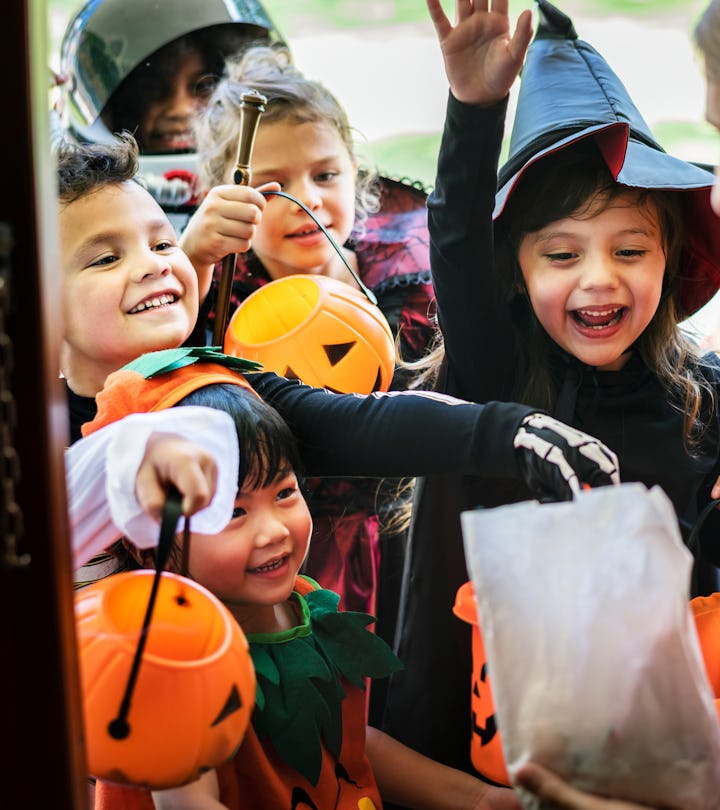 Shutterstock
36 Frightfully Funny Halloween Knock Knock Jokes
Mix up the scary with a little silly.
Halloween is known for a lot of things (think creepy crawly horror goodness), but what it isn't necessarily known for are belly laughs. But infusing some hilarity into the holiday can add a whole other element of entertainment (and potential bonding) with your child that you might not expect. So get ready to bust a gut — literally — with these Halloween knock knock jokes for kids.
If you thought the only goal for Halloween was to score a ton of candy, well, you're partially right. Sure, getting a sack full of treats is fun, but what's funnier is whipping out a knock knock joke to get everyone giggling. But where would your child get to use said gags? Well, lots of places, from creating their costumes to their Halloween party in school. They can call up the grandparents and treat them to a knock knock joke in the days leading up to All Hallow's Eve. And your kid can be a jokester when they substitute the standard "Trick or treat!" with a knock knock joke as they're literally knocking on doors while trick or treating. And who knows, maybe they'll get even more candy because of it.
That's why these knock knock jokes about witches, skeletons, ghosts, and more are all treats — and that's no trick.
And there you have it: A hearty list of Halloween knock knock jokes that'll get your child some extra smiles — and hopefully a whole lot more candy for cracking people up.
This article was originally published on