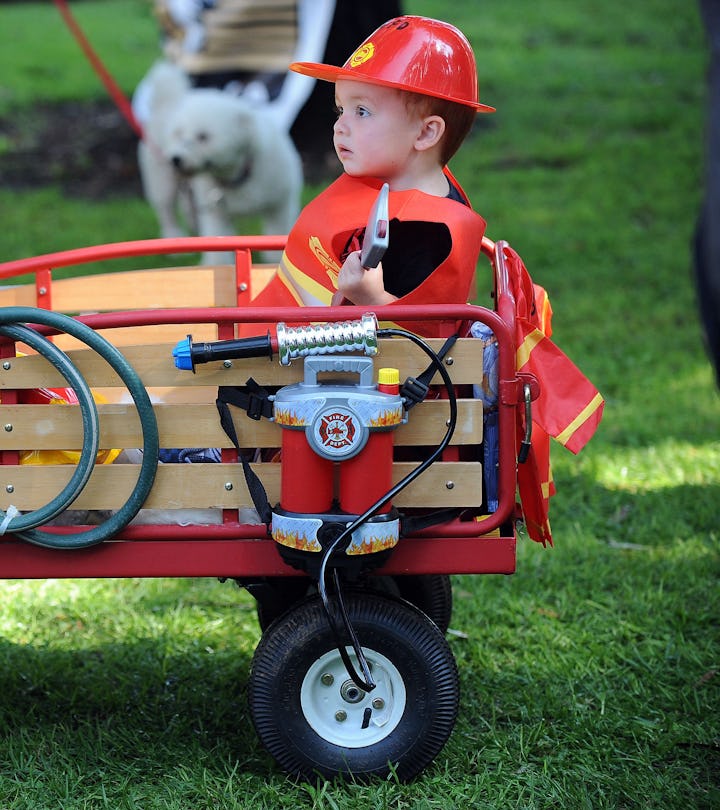 ROBYN BECK/AFP/Getty Images
15 Ideas To Decorate A Wagon For Halloween
From elaborate DIY options to an easy solution on Target shelves, wagons are taking center stage this Halloween.
There is nothing more fun than lugging your tired, sweaty, sugared-up child around on Halloween for trick-or-treating — unless you get to pull them around in a Halloweenwagon instead. Trick-or-treat is one of those holiday activities that always seems fun at the outset, but becomes exhausting by the end. The addition of a wagon to the trick-or-treat festivities means you have a place to sit tired kiddos, contain discarded costume pieces, or hold a busted candy bag. Don't just pull a plain wagon around this fall, though. Decorate it! Whether you have an old-school metal Radio Flyer or a new collapsible swagger wagon, there is a slew of creative Halloween wagon ideas to transform it into a costume on wheels.
There are Halloween wagon decoration options you can order from Target or other retailers that require zero creativity or DIY know-how. Stick a cardboard pirate ship on your wagon, throw an eye patch and tattered shirt on your kid, and you're ready to hit the streets. There are just as many options available from the creative minds of the internet — The Mommy Bloggers — as well as Etsy creations. Put on some monster jams and get out the hot glue gun to create a gilded Cinderella pumpkin carriage or a family weather system by decorating your wagon. No matter your skill level or budget, it's not that hard to incorporate a Halloween decorated wagon into your trick-or-treat night.
We may receive a portion of sales if you purchase a product through a link in this article.
Whether you choose to flex those DIY skills or purchase something that requires no skill at all, there's a Halloween wagon costume that will make your kid totally Instagrammable while also providing a handy way to get that candy haul back home. It's amazing what a few pieces of cardboard and some ingenuity can create.