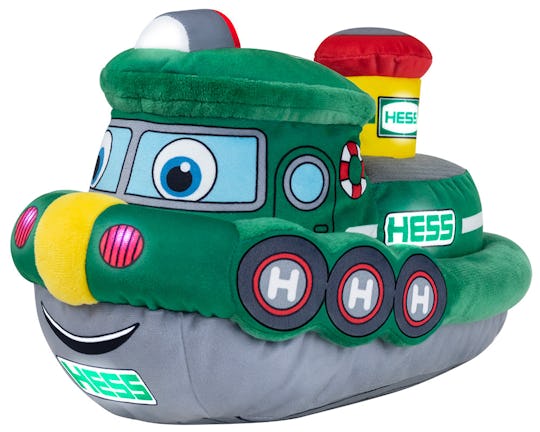 Hess
Where To Find The Latest Hess Collectible Before They Sell Out
Calling all toy collectors.
You don't have to be fluent in the world of collectible toys to be familiar with the brand name Hess and what it represents. Since the '60s they've produced high-quality, limited-edition trucks, fire engines, planes, and other toy vehicles. If you have a young child is currently going through a car or truck phase, you could probably dig up a Hess vehicle or two out of their toy chest right now (it's the kind of thing people like to gift for the holidays or pass onto the next generation). In 2020, they started releasing one adorable plush toy a year to cater to a younger audience. They started with a firetruck in 2020, a cement truck in 2021, a just last year, a train. This year's limited edition Hess plush is quite possibly the cutest: a singing, light-up tugboat that is the perfect hugging size for babies and toddlers.
What's unique about Hess products is that they virtually sell out every year as they only produce one unique vehicle a year, and their soft, My Plush toys are apparently no different. Even though they might not have the same appeal to a collector that, for example, a model truck or fire engine might, every item from the My Plush series has sold out from their website, sometimes as early as the summer, which, ahem, is way before the holiday season.
Everything you need to know about the 2023 Plush Tugboat from Hess
Like previous My Plush products from Hess, the Tugboat has adorably friendly eyes, plays songs, lights up, and has a special night-time feature making it a sweet cuddle buddy for tots who don't like to go to sleep in the dark: A quick tap of the boat's roof turns it into a cute nightlight that emits a steady light (as opposed to blinking) on a 15-minute timer.
If your child appreciates a good serenade, the two nursery songs it plays are "Row, Row, Row Your Boat" and "Six Little Ducks," and the three AAA batteries required to make the toy operate are included, which means your little one can enjoy all the features it has to offer right away. It retails for $34.99 (shipping is free) and is only available at HessToyTruck.com while supplies last.
Every child has that one toy that they can't seem to part with, even for 30 seconds, and the Hess Tugboat might very well be that for your young child because it checks the most important boxes: it's soft, it's huggable, it makes noise, and it has flashing lights. It's an adorable my-first product for a child who might grow up to be an avid collector of all things Hess, or whose parents are already brand enthusiasts.