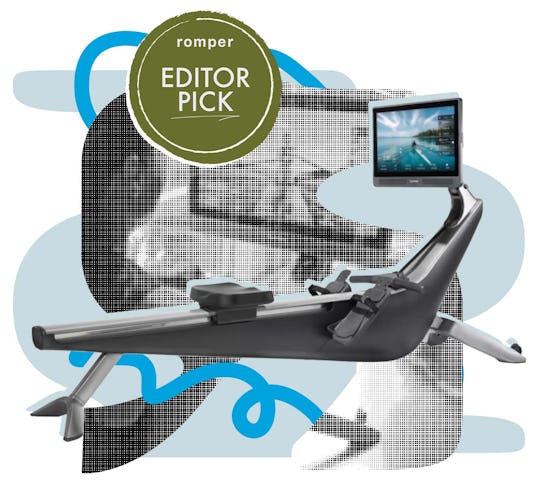 The Hydrow Rower Costs $2,500, & Alas, I Absolutely Love It
Yes, it really is worth the price tag.
Had To Share
We may receive a portion of sales if you purchase a product through a link in this article.
Historically, my two biggest motivating factors when it comes to exercising have been 1. to "get ready" for a trip away (usually heading somewhere tropical and after spending one or two months telling myself, "I'll start tomorrow," then not making any actual physical effort until 2 weeks before takeoff), or 2. to sweat out a hangover (nothing is more painfully effective). Until I started using the Hydrow Rower, I never really experienced the benefits of working out consistently for an extended period of time because I just never stuck with exercising more than a few weeks or months, max.
There have always been motivating factors to start working out regularly — like my wedding or visiting my hometown from college — but once those events passed, any consideration to exercise just went poof. My relationship with the Hydrow started out the same way. I was gifted a machine when my friend's bachelorette at an upscale beach resort was two months away. But after the get-together came and went, I just...kept using the machine regularly. It seemed to check all the boxes that were important to me: it's convenient, easy to use, offers a ton of variety, and even nets out to about the same amount I'd pay for a gym membership (that I would never use).
What is the Hydrow?
"The Peloton of rowing" is how it was first advertised to me. Unlike the Peloton, which is a stationary bike, it is, of course, a rowing machine. Like the Peloton, it comes with an attached screen where you can access guided workouts for rowing, yoga, pilates, strength training, mindfulness, and more. Some of these sessions are live-streamed and you can see where you rank against other users following the program in real time, and others are available on-demand. The videos are themed, either by musical genre or workout intention. The instructors are professional athletes in their field (four are former Olympians), and each with their own unique personality and humor. My favorite instructor? That's like asking me who my favorite child is. It depends on the day.
Stats
Price: $2,495 For the machine, $44 for the monthly membership. The Hydrow Wave, a newer, more compact machine, is available for $1,895.
Who it's for: Anyone who wants to row, from beginners to professionals.
When to use: Anytime, but I recommend avoiding right before bedtime and meals.
Weight limit: 365 lbs
Height limit: Up to a 36-inch inseam
The hardware
The Hydrow is not some dainty little workout accessory you can easily take with you from apartment to apartment or room to room. It's heavy and long — 145 pounds in weight and 86 inches in length. There are wheels on the front end which help to maneuver the machine, but you have to be strong enough to lift one end of the machine to move it or store it vertically (which you can do using their Upright Storage Kit, available to purchase separately for an additional $80).
I personally have not had any maintenance issues, but it is possible for the belt to rip or snap. According to what I've seen on Facebook message boards, their customer service is pretty reliable and quick to reply. I wouldn't say it's the coolest or sexiest rower out there — how sexy can you be with a screen permanently attached to you? — but it is pretty sleek with its soft curves and minimalist frame.
Is it worth it?
To date, I've used this bad boy 148 times over the course of 14 months (thank you, Hydrow, for keeping track). If I factor the cost of the machine plus a 14-month membership, and divide that by how often I've used it in the past 14 months, it nets out to about $21 a session to date, and that number will continue to sink lower the longer I own and use the machine. For example, before a recent bout of Covid kept me off the rower for six weeks, my cost per workout netted out to $20 per session. That $20 is on the low end of how much it costs to take a workout class at my local gym.
Plus, the Hydrow is not a one-trick pony. There are thousands of videos in their library that focus on everything from yoga to circuit training. You can filter them based on the intensity, duration, and intention of your workout, and if you have a favorite instructor, you can filter that way as well. For obvious reasons, the program is most intuitive when you are on the Hydrow machine itself. But if you're traveling and want to use the rower in the hotel gym or do some yoga in your room, you can access the app from your phone and follow an instructional video from there.
How I use the Hydrow
My typical workout is a 20- to 30-minute row, usually a "drive" (a row that focuses on strength building) or "sweat level session" (which targets your endurance). When I'm feeling spicy, I'll follow that up with a 10-minute core or strength training workout. Occasionally I'll log on for a 20 minute pilates or circuit session. I haven't dabbled in a ton of the non-rowing sessions, but the ones I have done usually work the advertised targeted muscles and get the job done, meaning it usually hurts to walk or move the appropriate part of my body the next day.
The results
After rowing consistently for a couple months, I — and my partner — definitely noticed a physical difference. A full-body tone, if you will. Before and after numbers I do not have, because I personally just don't keep track. Everyone has their own reasons for working out, and mine were never to lose weight or be a certain size or have some sort of BMI. Things are just a bit firmer all around, which, does make me feel good about myself, but I've benefited in other ways as well.
It gives me a boost of energy. If I pop on the rower right after the kids go to bed, I know I'll be in a better headspace (read: less grumpy) to do simple care tasks, like folding the laundry, or pretending to be interested in the story I've heard my husband tell 12 times already. (This is his biggest flaw). And when I am stewing about something, down to the unfinished basement I go for a hard, quick row to redirect my bad, bad energy.
Pros & cons
Pros:
The convenience: It's in your house, and the music, instructor, and equipment are all at your fingertips.
It offers more than just rowing — you can follow guided yoga, pilates, HIIT videos, and more.
It offers all the benefits of rowing, like being a low-impact, total body workout.
It has a modern design.
It's great for beginners.
Cons:
It's expensive.
It's heavy and takes up space.
It can be stored vertically, but you have to purchase a separate kit to be able to do so.
Final verdict
My preferred level of physical activity leans more sloth than border collie, and I've always struggled with consistency when it comes to exercising. For some reason, that has not been the case with the Hydrow, and I think it comes down to a combination of things: I found something that I actually kind of like doing, it's not too hard or torturous unless I want it to be (a huge workout turnoff for me), and it makes me feel good mentally and physically long after the cool down is complete.
The TL;DR
Believe me when I say it doesn't surprise anyone more than me when I say that I am still using the Hydrow regularly after a year. It has not met the same demise as some workout machines that became popular at the start of the pandemic — turning into an expensive and unattractive coat rack.
Had To Share highlights the products and finds that Romper editors and contributors love so much, we just had to share in the group chat.