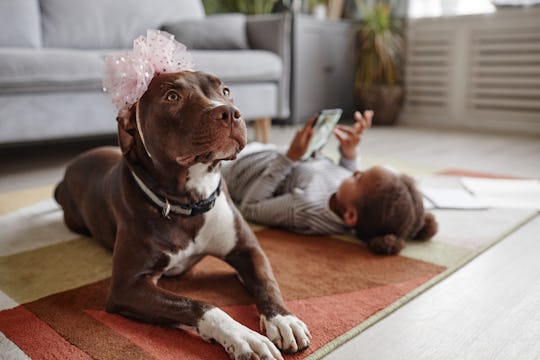 Shutterstock
38 Instagram Captions For All Your Adorable Dog & Baby Bonding Pics
From playing dress-up to the canine included dance parties, it's all Instagram-worthy!
Peanut butter and jelly, Kristen Bell and Dax Shepard, babies and dogs — some things just go together. And if your new baby and your fur baby are in puppy love, you'd better share pics. You'll need some sweet Instagram captions for dog and baby bonding pictures to post, but fear not, the #inspo is right here.
"Get a dog," they said.
"It'll be fun," they said.
My husband and I can't help but roll our eyes and say this when our children get caught up in some fun mischief with our pandemic puppy. And by mischief, I mean anything from sneaking to feed him their food, dressing him up, and making him dance while they giggle their butts off. Don't believe me? I have the receipts to prove it. But although there are taxing moments, I can't deny how sweet and obvious their bond is. And my camera has been overloaded with capturing it all.
If these types of dog and kid photos are taking up the memory on your phone too, then it's time to slide some of them to Instagram and share them with your followers. And you'll need the perfect captions to capture the whole experience of your picture. Has the dog ever stolen their food, and you caught your child crying? Do they like to put their bunny ears on the dog for Easter? What about when there's peanut butter everywhere, and your toddler is pointing at the dog? My favorite clips are of their excitement from teaching their puppy a new trick like how to shake their hand. Each one of these is Instagram-worthy.
Here are some cute Instagram captions that are ideal for all the crazy moments you'll post.
This article was originally published on