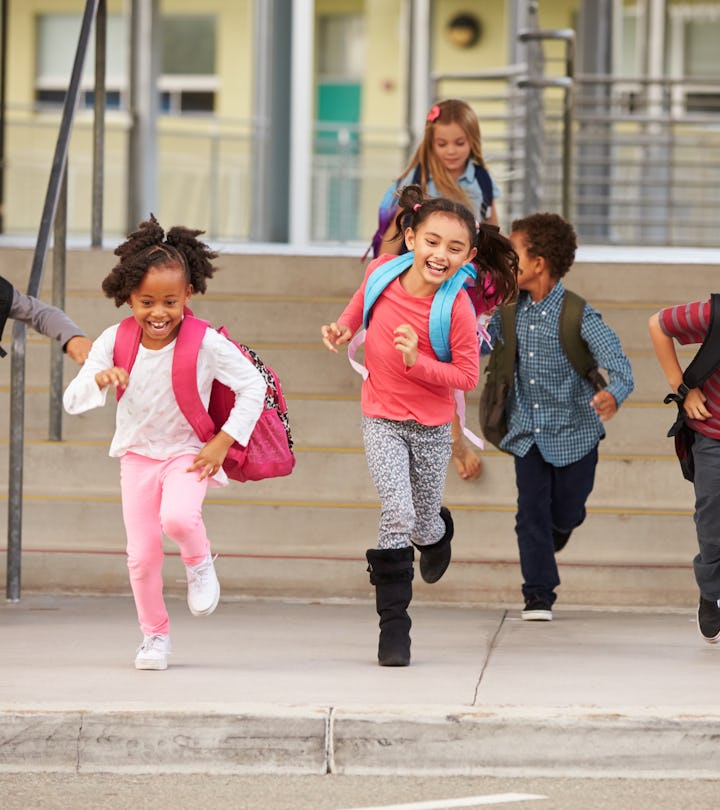 Shutterstock
60 Instagram Captions For The Last Day Of School
The last day of school is almost here. It's nearly that time when we ditch the early mornings, backpacks, and drop-off lines for lazy days, pool visits, and beach adventures. Just as you flood your Instagram with first day of school pictures, capture the last day of school and all the fun things you're ready to do. You'll need some epic Instagram captions for the last day of school.
Your Instagram captions can cover anything from the breakfast your kids enjoy on the last day of school to how fast they sprint to the car because they are ready for the start of summer. Every detail is a memory and a moment that you can make Instagram official. While you're invested in taking all the pics, grab one of the captions below.
Instagram captions about the school year for teachers and parents
So proud of the hard work the kids put in this year.
Thankful for the memories made and the lessons learned this year.
I can not believe how much this kid has grown.
Are we seriously done with this school year already?
It's been a fantastic year.
Definitely won't miss sitting in the drop-off and pick-up line.
This year brought its challenges, but I'm over-the-moon proud of my kids.
Last lunch packed until September
Won't miss early mornings, will miss their favorite teacher.
First Day vs Last Day
I can't believe how fast this year flew by.
Wasn't it just September?
The days are long, but the years are short!
Another school year down, I can't believe it!
"How lucky am I to have something that makes saying goodbye so hard." — A.A. Milne
Oh, the places you'll go!
Homework? Never heard of her.
Was almost late only once ... or twice ... or five times.
Only threw away a field trip form once!
You're telling me they're getting older?! How did another year already go by?
Do you think they miss us as much as we miss them when they're in school?
Happy to report the dog did not eat any homework this year.
Take it from me, fam: go ahead and clean out those book bags and lunchboxes now.
Time to shove the backpacks into the closet.
Time to celebrate another year done!
I've never seen my kid run out the doors so quickly.
You're telling me I get three months off from packing lunches?!
Give that teacher a Starbucks gift card to celebrate today; they need it.
Have a Good Summer! Or, as my kids say, HAGS!
Time for vacation. In every sense of the word.
Instagram captions for students to post about the last day of school
"Although we've come to the end of the road..." — Boyz II Men
We out!
Another milestone!
Sayonara, carport!
Teachers, you deserve this break. Enjoy every minute!
Yearbooks signed! Now we're gonna dip.
It's officially over! Don't wake me before 8 a.m.!
Turning my alarms off NOW.
No more pencils, no more books, no more teacher's dirty looks.
That last day of school dash!
Instagram captions about looking forward to summer
Summer's here, and these kids are ready!
Time for the beach!
No summer slide here. The learning never stops.
Who's ready for camp?
No more early mornings, buses, or backpacks. Let the lazy days begin!
Swimsuits and sunscreen, already laid out.
Enough talking. It's time for the pool.
Send me all your favorite summer activities. We are officially in need of some busy fun.
Let's put those swim lessons to good use!
It's SUUMMMMEEEERRRR (In my best Olaf voice).
Schoooool's OUT. FOR. SUMMER.
School's out, sun's out.
If you need us, check the pool.
Summer vacation is officially here. I think I'll last a week.
It may be summer, but for moms, now the real work begins.
Officially on do not disturb.
Soaking in all the time I can this summer with these kiddos.
Can these pool days last forever?
Time to break the floaties out.
Taking bets on how many times the kids will "forget" to dry off before coming in the house.
You made it through another school year (and survived the drop-off and pick-up line). Go celebrate and enjoy these warm, sunny months with the kids. September will be here before you know it.
This article was originally published on