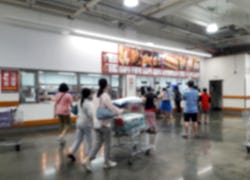 What You Need To Know About Costco's Fourth Of July 2022 Hours
Shutterstock
You can get delish deals if you plan ahead.
It doesn't matter how much planning or prep that you do for a party. Inevitably, you will forget something, and it's usually critically important to the success of your soiree (think adult beverages, for example). If your party is planned for our nation's Independence Day — and you need to pick up a couple of those deliciously affordable rotisserie chickens — you'll need to know: Is Costco open on the Fourth of July? Because you might need to alter your arrangements.
Is Costco open on July 4, 2023?
If you're planning to cruise on over to Costco on Independence Day for anything from patio furniture to dino chicken nuggets, you'll probably find plenty of parking… in the form of an empty lot. That's right, the warehouse giant we know as Costco is closed on the Fourth of July, per the company's site. Truth be told, Costco doesn't close frequently — they're open pretty much every day except for New Year's Day, Easter Sunday, Memorial Day, Labor Day, Thanksgiving Day, and Christmas Day. That said, since Fourth of July falls on a Tuesday in 2023, you could always go to Costco the day before, on a Sunday, when you'll find the store open from 10:00 a.m. – 6:00 p.m.
Costco's Fourth of July 2023 hours don't have to put a damper on your holiday plans. If you can get to the store over the weekend prior to Fourth of July, you'll find all kinds of amazing savings. And that way, you can enjoy Independence Day at home with the fam without having to wait on super long lines — even though those croissants kind of make it worth it.
This article was originally published on