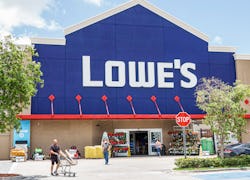 What To Know About Lowe's Fourth Of July Hours
UCG/Universal Images Group/Getty Images
The savings are something to celebrate.
When you think of Fourth of July festivities, most likely celebrations with food and family come to mind. But with so many people probably heading over to your place for fun and fireworks, you might start looking around your home and thinking that it could, well, use a little sprucing up. If you're itching for some home improvement in time for Independence Day, you'll need to know Lowe's Fourth of July hours — because they're something to celebrate.
Is Lowe's open on July 4, 2023?
There's nothing like trying to get the grill up and going on July 4th — only to find out that morning that your grill got up and went. Since backyard BBQs are kind of a mainstay when it comes to this holiday's meals, you might wonder if Lowe's is actually open on Fourth of July. Well, worry no more, because Lowe's is open on the Fourth of July, according to a company spokesperson. And since July 4 falls on a Tuesday this year, that means you'll be able to be a true early bird and get to the store as early as 6:00 a.m.
Lowe's fourth of July deals
There are so many fourth of July deals at Lowe's, it's kind of hard to wrap your head around all of them. You'll find savings in almost every section of the store, from appliances and outdoor cooking, to grills and garden supplies. If guests are coming over (and your outdoor patio set has seen better days), you might want to check out Lowe's patio furniture sale where customers can score up to 40% off essentials. to the Style Selections 5-Piece woven Patio Conversation Set with Cushions ($528.00).
If you're looking to make your place more patriotic, Lowe's has lots of July 4th décor including wreaths, inflatables, and, for some reason, lots of garden gnomes decked out in red, white, and blue.
So if you're in the market for a new fridge, some gardening soil, festive flowers, gardening tools, or even a grill, you'll be able to shop to your heart's content at Lowe's where you'll find savings to make your fourth of July fabulous.
This article was originally published on