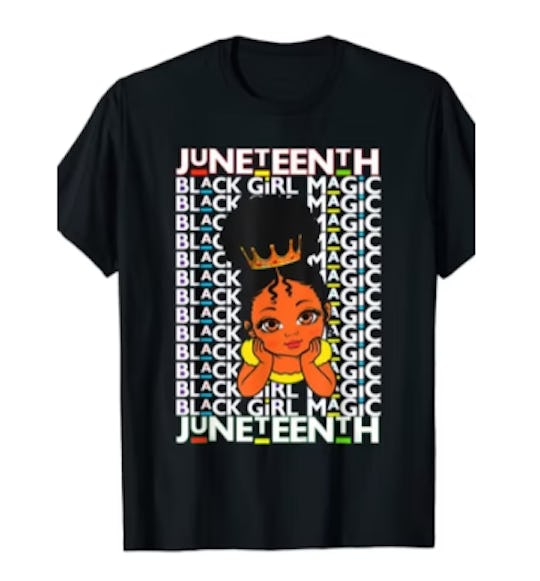 Amazon
15 Juneteenth Shirts For Kids To Express Their Pride & Support
You can wear them all year round.
As summer approaches, you're probably not thinking too much about your kid's clothing anymore. After weeks of getting your child dressed in endless end-of-school theme day activities, school uniforms and ironed outfits have (thankfully) been replaced with basic tee shirts, shorts, sneaks, and sandals, and the days become long and relaxing again. But there's still another holiday to celebrate in June that your child should get dressed for, and that's Juneteenth. If you're looking for Juneteenth shirts for kids, there are plenty of colorful (and historical) options.
Long celebrated in the Black community, Juneteenth is an abbreviated way of saying "June nineteenth." It marks the day when, after the Civil War, slaves were emancipated in the U.S under the terms of the 1862 Emancipation Proclamation. But it wasn't until June 17, 2021 that Juneteenth became a federal holiday, according to History.com, when President Biden signed it into law.
In a month that proudly celebrates diversity, inclusion, and acceptance, you can show off your own pride by picking out a Juneteenth shirt for your child to wear for themselves as part of your family's culture or even as an ally for the Black community, too.
We only include products that have been independently selected by Romper's editorial team. However, we may receive a portion of sales if you purchase a product through a link in this article.
Your child can honor Black history by participating in parades and marches, all while wearing a Juneteenth shirt for kids that is at once stylish and symbolic.