They're Always After Me Lucky Charms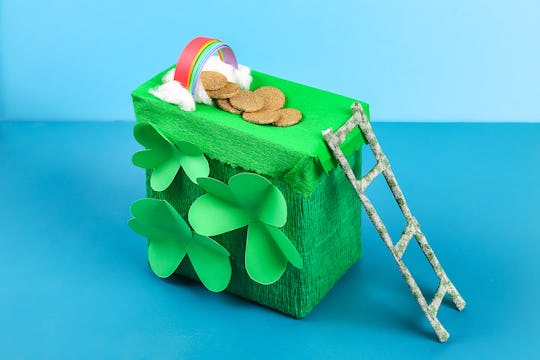 Shutterstock
Leprechaun Trap Ideas & Tips To Catch The Wee Lad
Gold glitter goes a long way, friends.
Building a leprechaun trap is a childhood rite of passage — and clearly a fun way to celebrate St. Patrick's Day. Whether your child needs to build one for a school project or you guys are hoping to catch a wee little leprechaun in your own home (and demand he share his gold coins), there are plenty of leprechaun trap ideas to help you build the best leprechaun trap ever.
The really fun part about building a leprechaun trap is that there is some fun leprechaun folklore to follow and put into your plans. Haven't you ever heard that leprechauns don't like to follow the rules? Or that they really love gold and rainbows and will basically let themselves get baited, hoping they can get a bunch of goodies? Use those tips and some of these other leprechaun trap ideas to catch the bearded, green-suited little lad. In most cases, all you need is a shoebox or some other kind of container, and construction paper, gold paint, and glitter always work well to build out the rest of the accessories. Even a piece of cardboard painted to look like gold coins is a nice, budget-friendly way to catch your leprechaun. (And, in a pinch, some Lucky Charms will always work.)
Good luck catching your leprechaun! And be sure to hold on tight to those extra gold coins.