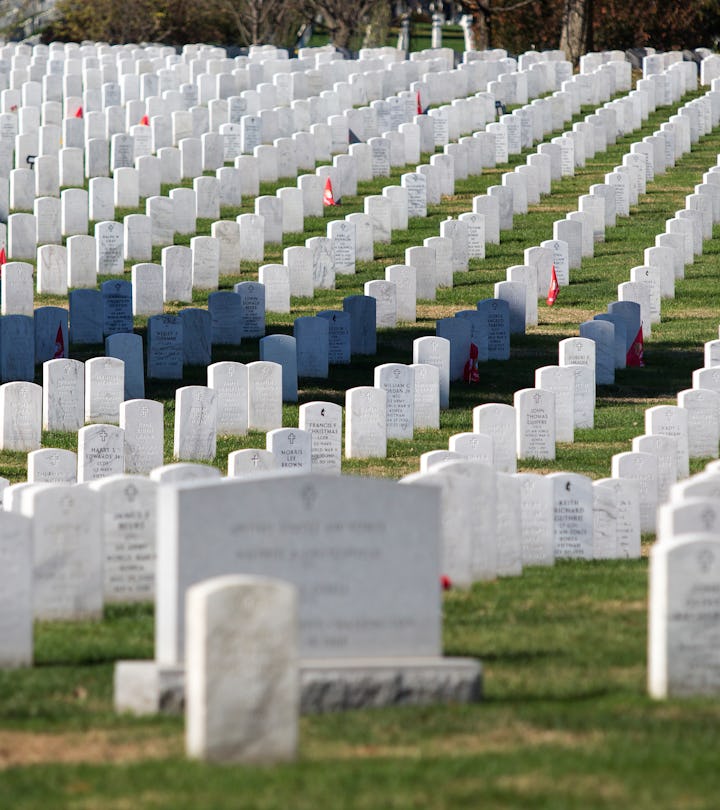 Congressional Quarterly/CQ-Roll Call, Inc./Getty Images
How To Say "Thank You" This Memorial Day
Because those who sacrificed everything deserve our gratitude.
Memorial Day is commonly associated with hamburgers on the grill and water balloon fights on the lawn. But this 155-year-old holiday is really about honoring those we have lost in active military service. So while you're out having fun on the unofficial kickoff to summer, be sure to take a moment to remember all those throughout our country's history who have died in the line of duty. These Memorial Day thank you quotes — from a mix of past presidents, generals, military veterans, and others — can help one reflect on the patriotism and courage of our troops.
Since World War II, the nature of war and military service has changed, as has the number of Americans who are related to or friends with a military service member or veteran. Today, many of us do not have firsthand knowledge of the intense sacrifices our military personnel and their families have made. This makes it all the more important that we take time to honor the fallen, and to pay our respects to their gold star families.
Remember those who have empty chairs at the table, and those who fought so hard for the freedoms we too often take for granted. Some of these Memorial Day "thank you" quotes speak directly to the bravery of the troops, while others reflect on the American values they died defending.
This Memorial Day, enjoy your three-day weekend and enjoy being with your family and friends by the grill, but don't forget to say "thank you" to those who deserve it. Whether you use one of these quotes or put more effort into your gratitude, know that veterans and other members of the armed forces appreciate what their brothers and sisters who sacrificed everything may not get to hear. Hug your loved ones, remember those who lost everything, and focus on more than just that sale on lawn mowers.
This article was originally published on