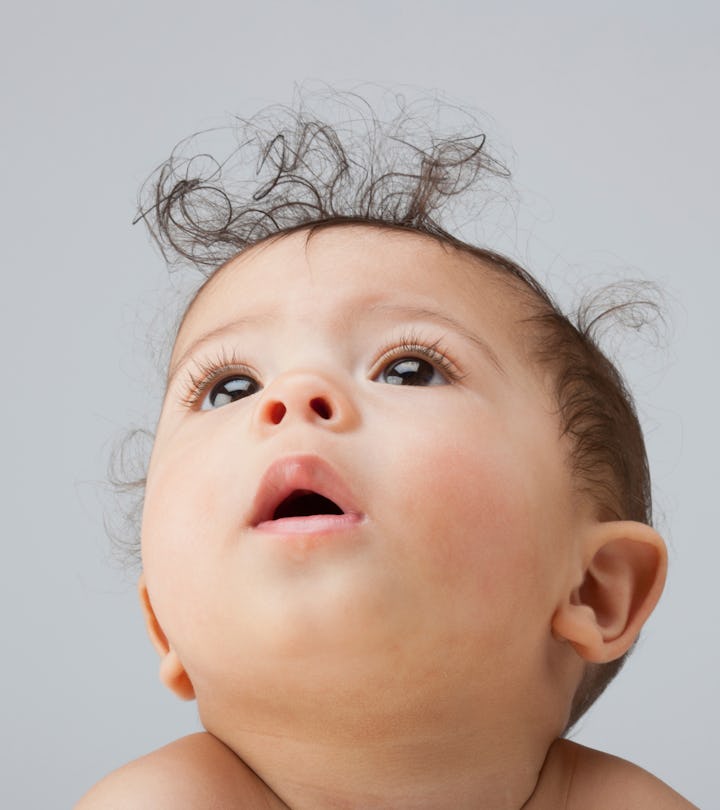 Tom Merton/OJO Images/Getty Images
2 New Shots To Protect Babies From RSV Are Here. Which Is Right For You?
The FDA has approved two new shots that can prevent RSV's scariest outcomes.
Respiratory syncytial virus (RSV), which tends to circulate in fall and winter, is the scourge of many pediatricians. Though most kids have had it by age 2, and for many it presents simply as a cold, RSV can be dangerous for newborns, and for those with compromised immune systems. Last year's RSV season was particularly brutal, but pediatricians are hoping for a slightly easier go this year thanks to the new approval of two new RSV shots, one for babies and one for adults including pregnant people.
In mid-August, the FDA approved nirsevimab, a monoclonal antibody given via injection to protect infants 8 months and under. A week later they approved Pfizer's Abrysvo, a new RSV vaccine for adults that, when given to pregnant women in the third trimester, protects their babies against RSV from birth to 6 months. Though this is all good news, it's a lot to keep track of and questions abound. When will the RSV vaccine become available, and will is be covered by insurance? If you're nearing the end of your pregnancy, what offers the best protection, getting an RSV vaccine now, or a dose of nirsevimab for your baby after they're born?
If you're as confused as you are excited about these new approvals, you're not alone. Even the American Academy of Pediatrics (AAP) expressed concerns about access to and distribution of these life-saving jabs as we head into RSV season, which typically begins in October. We spoke to Dr. S. Amna Husain, a pediatrician and AAP spokesperson, and Dr. Steven Abelowitz, a pediatrician at Coastal Kids Pediatrics, about what parents should know about these important new RSV prevention options.
RSV shots: What's the difference between nirsevimab and Pfizer's RSV vaccine?
Nirsevimab (an antibody treatment given to babies)
What it is: nirsevimab (brand name "Beyfortus") is a monoclonal antibody developed by Sanofi and AstraZeneca.
Who it's for: Babies. As soon as the FDA and Centers for Disease Control and Prevention (CDC) gave their approval, the AAP released a recommendation that all infants under 8 months old (also defined as "infants heading into their first RSV season") get one dose of nirsevimab.
How it works: It is not a vaccine but rather an antibody treatment given to healthy infants as a single-dose injection. The FDA found nirsevimab to be 75% effective at preventing lower respiratory tract infections that require medical attention and 78% effective at preventing hospitalizations.
Availability: Nirsevimab is not very accessible yet, and availability will depend on your location and pediatrician.
Cost: $300 - $500, and it's currently unclear if insurances will cover it.
Abrysvo (an RSV vaccine given to adults)
What it is: Abrysvo is an vaccine, developed with the same technology used to make Pfizer and Moderna's Covid-19 vaccines.
Who it's for: Adults. Specifically, it is recommended for older adults (over 60) and pregnant women. The FDA has approved Abrysvo for pregnant people between 32 and 36 weeks.
How it works: Abrysvo is a vaccine, and it works to stimulate the production of antibodies. A clinical study showed that giving pregnant women the Abrysvo vaccine reduced their baby's risk of lower respiratory tract disease (LRTD) caused by RSV by 34.7%, and reduced the risk of severe LRTD by 91.1% for the first 3 months of life.
Side effects: The most common side effects were mild and included pain at the injection site, headache, muscle pain, and nausea. The FDA report notes that pre-eclampsia occurred in 1.8% of pregnant individuals who received Abrysvo, and in 1.4% of pregnant people who got the placebo.
Availability: It's available, but since the CDC has not yet made their official recommendation, have a conversation with your OB or health care provider.
Cost: Upwards of $300 if not covered by insurance.
When will these RSV shots be available?
Doses of nirsevimab are expected to begin to become available this fall. However, as the AAP has stressed, there are significant barriers in place to getting it into offices and pediatric patients. As Husain explains, the two major barriers right now are:
Cost. Right now, costs are at about $300-$500 per shot for clinicians.
Lack of infrastructure. "There needs to be more infrastructure and solid policies in place to make this shot more available for infants of this age group, targeting newborn nursery hospitals, birthing centers, assisting private practices in trying to cover the cost of this vaccine, especially for privately insured patients," she explains.
Pfizer's RSV vaccine Abrysvo for adults is already available in many pharmacies around the country right now. If you are pregnant and want to get one, it's best to have a conversation with your OB or health care provider about getting the shot before you seek it out, as the Centers for Disease Control and Prevention (CDC) has not yet made their official recommendation (though the FDA has).
Will insurance cover the RSV vaccine or antibody treatment?
These treatments are very new, and the AAP has said that access — including affordability — is a concern this year. Nirsevimab will be covered by insurance as well as through the Vaccines for Children (VFC) program, which covers immunizations for children who are Medicaid-eligible, uninsured, underinsured or AI/AN, says Husain. Beyond that, though, "it is unclear whether it will be included in bundled payments for newborn care and if so, how long that will take," she says, adding that in outpatient settings, insurance payments for new products historically lag. So parents with babies under 8 months old at home may have to pay out of pocket this season. Eventually, though, pediatricians are very hopeful that it will be covered by most, if not all, insurances, Abelowitz says.
As for the RSV vaccine for pregnant women, once the CDC makes their recommendation, it should be covered by insurance.
Why nirsevimab is currently only recommended for babies 8 months and under
If your baby is just over the '8 months and under' cut-off for nirsevimab eligibility, you may be wondering why. The risk of severe disease from RSV in healthy babies is highest during the first few months of life, Husain says, and so if your baby is healthy and over that 8 month cut-off, they simply are not quite as vulnerable as the littlest newborns. Though it's normal to want every protection for your child, rest assured that if they are over the cut off, they have simply outgrown the age of greatest risk.
Are high-risk babies older than 8 months eligible for an RSV shot?
Yes. If your baby or toddler is between 9 and 18 months (entering their second RSV season), and are also part of one of the following groups, Husain says they're eligible for a preventative dose of nirsevimab:
Children with chronic lung disease of prematurity who required medical support (chronic corticosteroid therapy, diuretic therapy, or supplemental oxygen) any time during the 6-month period before the start of the second RSV season.
Children who are severely immunocompromised.
Children with cystic fibrosis who have manifestations of severe lung disease (previous hospitalization for pulmonary exacerbation in the first year of life or abnormalities on chest imaging that persist when stable) or have weight-for-length that is <10th percentile.
American Indian and Alaska Native children. Husain notes especially that this is a new group for whom second-season prophylaxis is recommended in contrast to the current palivizumab (another monoclonal antibody treatment for RSV) recommendations.
Last year's RSV season was a tough one for all, but there is real reason to hope that this year will be a bit easier for parents, their babies and the pediatricians who care for them.
Studies cited:
Hammitt, L., Dagan, R., Cots, M., Bosheva, M., (2022) Nirsevimab for Prevention of RSV in Healthy Late-Preterm and Term Infants. New England Journal Of Medicine, https://www.nejm.org/doi/full/10.1056/NEJMoa2110275
Experts:
Dr. S. Amna Husain, M.D., IBCLC, pediatrician and AAP Media Spokesperson
Dr. Steven Abelowitz, M.D., FAAP, Founder and Medical Director of Coastal Kids Pediatrics and Medical Director of Pediatric Associates