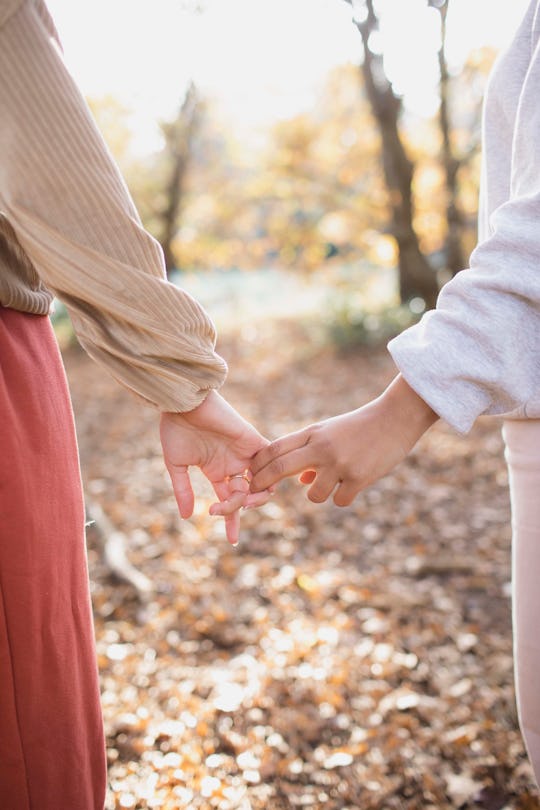 Tom Merton/Photodisc/Getty Images
9 Physical Signs That You're In Love
Your body actually provides clues.
Everyone knows the cliches about being in love — your knees are weak, you lose your appetite, and you're getting butterflies in your stomach. But it turns out that these amorous changes to your body aren't simply the invention of the poets of old. Being in love actually changes you, from the very chemicals in your brain, to the way you act, to the way you physically look. Paying attention to the physical signs from your body that show you're in love may be the only indicator you need that this is more than just a crush or passing fling.
Your body on love is a truly amazing thing. For the first few years of the relationship — called the "honeymoon phase" by most experts — your body and mind physically change in measurable ways. From that first date when you notice something different about them to the first time you make love — and all the small moments in between — knowing what is happening to your body can be almost as fascinating as actually falling in love. It turns out that you don't need experts or even your favorite romance novel to tell you when you're in love. The answer can be as simple as looking in a mirror. Here are nine physical signs you're in love with someone.
According to Silva, the neurochemical process of falling in love is intoxicating, but momentary and dissipates over time — although it does truly feel intense in the moment. "The best part about love is that it continues to evolve over time and stages, with true euphoria or bliss happening after some time (often years)," she says. So although you might feel overwhelmed, obsessive, and sleep deprived for a while, things will fall into a more sustainable ebb and flow of love over time
Studies:
Hirotsu, C., Tufik, S., & Andersen, M. L. (2015). Interactions between sleep, stress, and metabolism: From physiological to pathological conditions. Sleep science (Sao Paulo, Brazil), 8(3), 143–152. https://doi.org/10.1016/j.slsci.2015.09.002
Fraccaro, P. J., Jones, B. C., Vukovic, J., Smith, F. G., Watkins, C. D., Feinberg, D. R., Little, A. C., & Debruine, L. M. (2011). Experimental evidence that women speak in a higher voice pitch to men they find attractive, Journal of Evolutionary Psychology JEP, 9(1), 57-67. Retrieved Feb 21, 2022, from https://akjournals.com/view/journals/1126/9/1/article-p57.xml
Ortigue, S., Bianchi-Demicheli, F., Patel, N., Frum, C., & Lewis, J. W. (2010). Neuroimaging of love: Fmri meta-analysis evidence toward new perspectives in sexual medicine. The Journal of Sexual Medicine, 7(11), 3541–3552. https://doi.org/10.1111/j.1743-6109.2010.01999.x
ScienceDaily. (2014, February 6). What falling in love does to your heart and brain. ScienceDaily. Retrieved March 10, 2022, from https://www.sciencedaily.com/releases/2014/02/140206155244.htm
Song, H., Zou, Z., Kou, J., Liu, Y., Yang, L., Zilverstand, A., d'Oleire Uquillas, F., & Zhang, X. (2015). Love-related changes in the brain: A resting-state functional magnetic resonance imaging study. Frontiers in Human Neuroscience, 9. https://doi.org/10.3389/fnhum.2015.00071
Seshadri, K. G. (2016). The neuroendocrinology of love. Indian Journal of Endocrinology and Metabolism, 20(4), 558. https://doi.org/10.4103/2230-8210.183479
Pisanski, K., Oleszkiewicz, A., Plachetka, J., Gmiterek, M., & Reby, D. (2018). Voice pitch modulation in human mate choice. Proceedings of the Royal Society B: Biological Sciences, 285(1893), 20181634. https://doi.org/10.1098/rspb.2018.1634
Meyer-Lindenberg, A., Domes, G., Kirsch, P., & Heinrichs, M. (2011). Oxytocin and vasopressin in the human brain: Social Neuropeptides for translational medicine. Nature Reviews Neuroscience, 12(9), 524–538. https://doi.org/10.1038/nrn3044
Experts:
Dawn Maslar, M.S., science of love expert, love biologist, science writer, and adjunct professor at NOVA Southeastern University and Kaplan University
Clarissa Silva, behavioral scientist/relationship coach and creator of Your Happiness Hypothesis Method, http://clarissasilva.com/services/
This article was originally published on