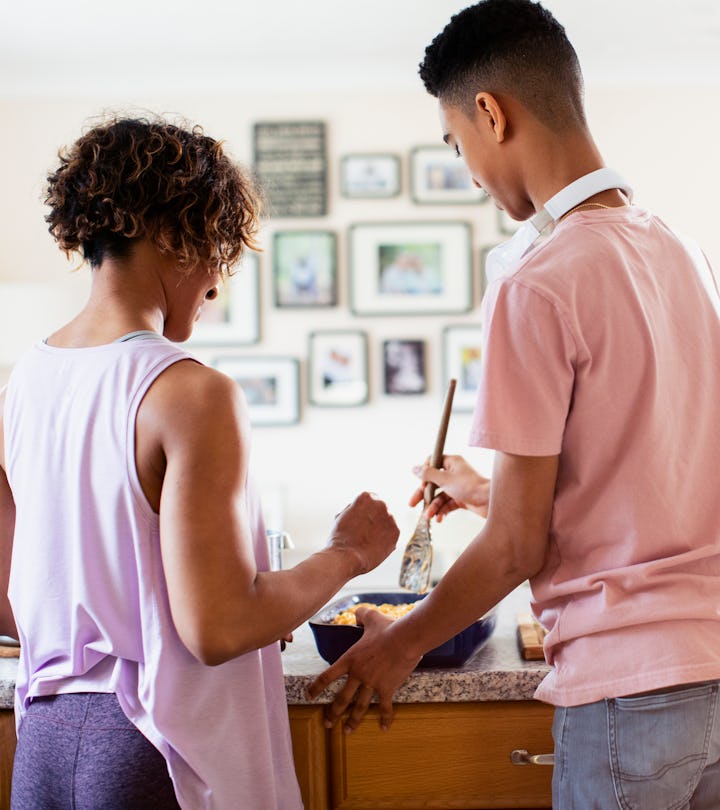 Caia Image/Photodisc/Getty Images
These Are *The* Questions To Ask Teens, According To Experts
And no, they're not all about sex.
You'd like to think that you have good communication with your child. You take an avid interest in their hobbies, make an effort to know (and like) their friends, and support their dreams. But are you having those really important conversations, the ones where you learn something about your child — and in turn, they get to know the real you, too? If you're not sure where to start, these questions for teens can create a jumping off point for those talks that truly matter.
When your child was little, you might have spent hours on end talking about butts and boogers, cartoons and creepy crawly critters — all of the silly (and gross) stuff that toddlers love to talk about. But when puberty makes its presence known in your home, you might feel a little more reticent to have those more cringeworthy conversations with your child. In order to make the chat meaningful, though, you're going to have to do more listening than talking, according to Danielle Bujnak, an early childhood educator and parenting expert. "What that makes these conversations hard is that you have to let go of your need to be right, and your need to control how they think and what they do, which can feel scary and uncomfortable," she says.
So how do you have a successful discussion with your teen? By doing a whole lot of listening. "When you discuss an important topic with your teenager, after you tell them whatever you think they need to know about it, pause for a moment and reset your own mind and body to a state of calm and openness, and ask them: 'What do you think?'" offers Bujnak. Then sit quietly until your child answers, without interrupting, contradicting, or even agreeing with them. Without infusing your own answers and opinions, your kid will feel like their voice is truly being heard.
Ready to talk with your teen? These are the questions to ask (and no, they're not all about sex).
Talking with your teen goes way beyond asking, "How was school today?" or "Did you clean up your room?" By taking the time to really ask the harder-hitting questions, you'll strengthen your bond with your child, and learn so much more about your them — and ultimately yourself.