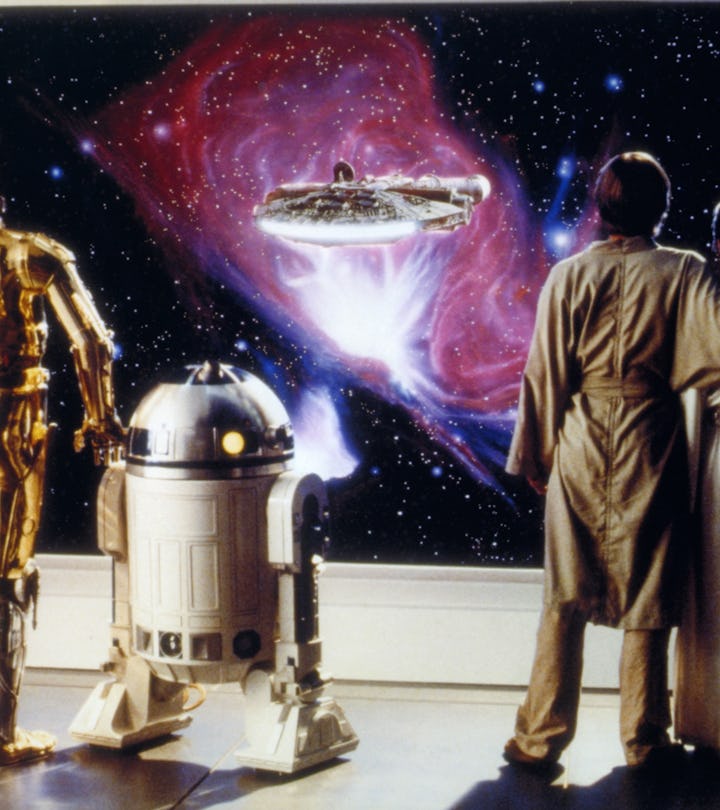 Sunset Boulevard/Corbis Historical/Getty Images
40 May The 4th Instagram Captions For Every Mood
How will anyone know you're a Jedi-wannabe without an Instagram post?
There's nothing like a random holiday to make you want to go above and beyond, and Star Wars Day is no different. The epic holiday is on May 4 every year so that literally everyone you know can say, "May the Fourth be with you," and it's the chance to lean in hard to your Skywalker, Obi-Wan, and Yoda fandom. The beautiful thing about Star Wars is that it's such a large franchise. From TV shows like Clone Wars to the incredible nine-movie saga to Disney+ originals like The Mandalorian (this is the way, friends), there's something for literally everyone.
So put on your favorite Star Wars accessories, do your Leia buns or your Rey ponytail, and get ready for an epic day of reminding your children how lucky they are you don't have Jedi powers. (Can you imagine? They'd literally get away with nothing.) These Instagram captions should inspire you to think up some fun posts to show off your love of all things Star Wars, and never forget: May the Force (and the Fourth) be with you.
Nostalgic Star Wars Day Instagram captions
"The Force will be with you. Always," said Obi-Wan Kenobi. And now I'm saying it to all of you. To the franchise that taught us to never give up, Happy Star Wars Day.
All I want to do is climb back into bed and watch all of the Star Wars movies in order. (Except for Phantom Menace. And really I just want to rewatch the original three over and over.)
The world needs Princess Leia, General Organa more than ever. Happy Star Wars Day.
May we all be as strong and faithful as Princess Leia today.
It isn't always easy to choose light, but this Star Wars Day, I'm making even more of an effort to be the good in this world.
"Never be afraid of who you are." Happy Star Wars Day.
"We had each other. That's how we won." — Lando
Star Wars may be a fantasy story, but the lessons are still true. Poe's speech in The Rise of Skywalker is something we should always remember: "Good people will fight if we lead them. Leia never gave up. And neither have we. We're going to show them we're not afraid. What our mothers and fathers fought for, we will not let die. Not today. Today, we make our last stand. For the galaxy. For Leia. For everyone we've lost."
"When you look at the dark side, careful you must be; for the dark side looks back," said Yoda. Let's remember this always, especially on Star Wars Day.
It's Star Wars Day. This is the way.
Bring big Wookie energy today.
Remember when Star Wars was built on models, puppets, and sets? Good times.
Find a man who looks at you the way Han looks at Leia.
Is it too much to ask someone to open a drive-thru coffee shop called Java the Hut?
Funny Star Wars Day Instagram captions
Happy Star Wars Day! Really thought we'd all have our own droids folding laundry for us by now.
May the Fourth be with you. And also with you.
Happy Star Wars Day! Thank you for giving me so much of my childhood, and for also giving us the insult "nerf-herder."
It's Star Wars Day, which means I can call my boys "stormtroopers" after wiping the toilet seat again from the consequences of their terrible aim.
Just another epic Star Wars Day here, raising my own little Jedi to use their powers to charge their own damn tablets.
May the Fourth be with you. And don't forget the Revenge of the Fifth.
Just going to have John Williams playing in the background of everything I do today, like a real Jedi.
May the Fourth is more fun than ladies' night at Mos Eisley Cantina.
Is that a lightsaber in your pocket or are you just happy it's May the Fourth Be With You day?
How does Wicket get around Endor? Ewoks.
Buttering my toast on the dark side today.
You are the droid I've been looking for.
Yoda one for me!
​​Been evil as hell since the Sith grade.
Saber the moment.
Why, you stuck-up, half-witted, scruffy-looking, Nerf-herder! Happy Star Wars Day!
Inspirational Star Wars Instagram captions
Perhaps the reason people are such fanatics for the Star Wars franchise is because at the heart of it, buried beneath the CGI special effects and gripping plots is something we can't get enough of: an inspiring story. These inspirational Star Wars Instagram captions embody that.
"You must unlearn what you have learned… No! Try not. Do. Or do not. There is no try." – Yoda
Go out in the world today with the confidence of Luke, the swagger of Han, and the peace of Yoda.
Psst. It's OK if you're from a galaxy far, far away. Me too.
"You can't stop the change, any more than you can stop the suns from setting." – Shmi Skywalker, The Phantom Menace, 1999
The force is strong with this one.
"Women always figure out the truth. Always." – Han Solo
The student becomes the master.
"I find your lack of faith... disturbing." — Darth Vader
"Always remember, your focus determines your reality." — Qui-Gon Jinn
"We'll always be with you. No one's ever really gone. A thousand generations live in you now." — Luke Skywalker
Go ahead, lean into your Star Wars love and spread a little force with friends with these Star Wars Instagram captions for May the Fourth Be With You Day.
This article was originally published on