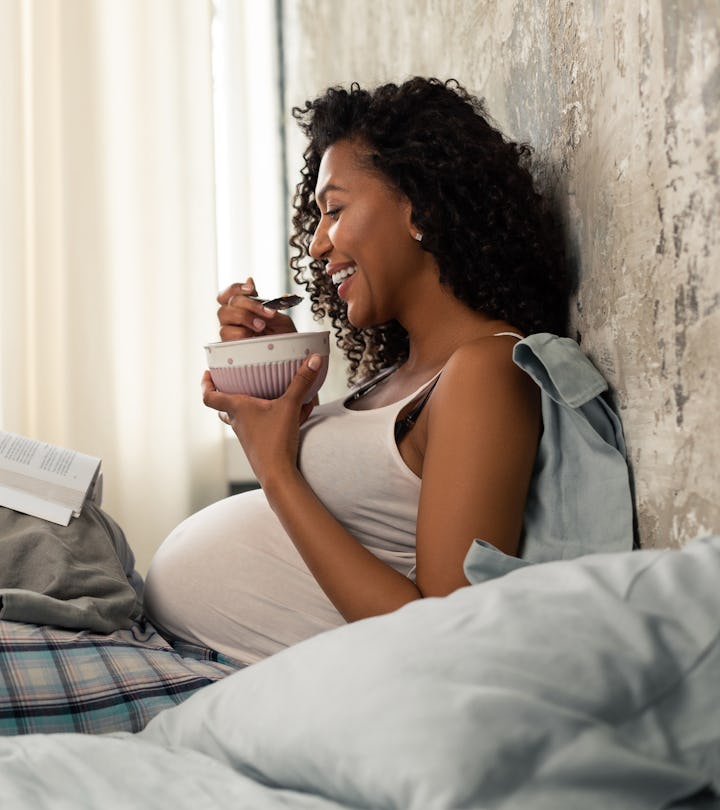 Shutterstock
Here's What Pregnant People Actually Want For Valentine's Day
When you're expecting, nothing says romance like a robe and a pair of cozy slippers.
We may receive a portion of sales if you purchase a product through a link in this article.
It's no secret that pregnancy comes with a lot of aches, pains, nausea, cravings, and all kinds of other interesting side effects. While the baby at the end certainly makes it all worth it, it's not an easy ride. But you can show some love and appreciation for her with the right Valentine's Day gift for your pregnant wife. Whether she could use a little relaxation, loves all things sugary-sweet, or could use some kind of distraction from getting kicked in the ribs all day long, Valentine's Day is the perfect opportunity to get her what she needs.
Some of the Valentine's Day traditions of chocolate or champagne might not really agree with her this year, so you might have to get a little more creative with gifts for your pregnant wife. But there are lots of gifts for expectant mothers that can help them care for themselves, feel seen during this particular time of their lives, and have some fun. If she's a book lover, a memoir that deals with pregnancy and parenthood or a book subscription box might be perfect. If she likes practical gifts, a PACKPACK bag or a Tile can help her keep everything she needs right where she wants it. This is also a great time to stray a bit from traditional; if she's not up to a fancy date night then gift her with everything she needs for an at-home spa day instead.
Not sure what to get the mama-to-be in your life? Here are some great Valentine's gift ideas for your pregnant wife (or, any pregnant person, really) to help you get started.
While it's a good idea to put a lot of thought into Feb. 14 every year, it's worth going above and beyond when it comes to buying a Valentine's gift for your pregnant partner. Carrying a baby is tough work, and Valentine's Day is the perfect excuse to show some extra appreciation.
This article was originally published on