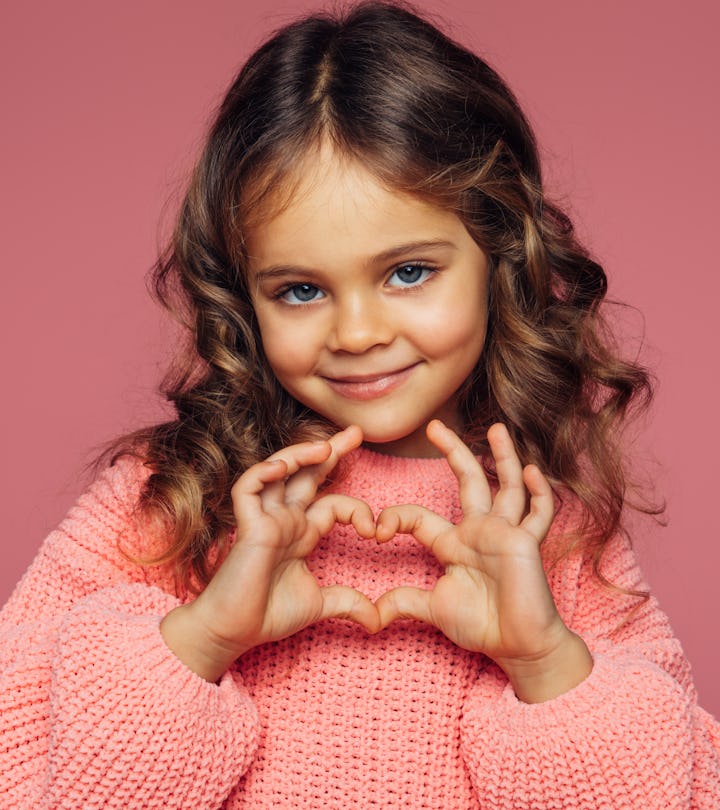 CoffeeAndMilk/E+/Getty Images
40 Valentine's Day Outfits Your Girls Will Adore Showing Off This Season
You'll wish they came in your size.
We may receive a portion of sales if you purchase a product through a link in this article.
Whether there's a party at school, a special dinner with the family, or your little one just loves a festive 'fit, why not let your kid get dressed up for Valentine's Day? There are so many adorable Valentine's Day outfits for girls in stores and online this year, there's bound to be something she'll fall in love with. And giving your girl a brand new outfit the morning of Valentine's Day is such a fun Valentine's gift idea to show her you love her.
OK, yes, finding a Valentine's Day outfit can feel like an added chore for busy parents. Chances are you already have to buy candy or sweets for your kid's class, or pick up Valentines with their favorite character on them in time to give them out, and all the other holiday happenings that come with having a child. But if you think your little one could use some _____ and heart-shaped sunglasses — and who couldn't? — it would probably add a little extra love and magic to their V Day.
Girls' Valentine's Day dresses
Dresses are cute, easy, and with the right leggings or tights, can work in any weather. From fancier looks to more casual cotton play dresses, there's a Valentine's Day dress that's perfect for your little one.
Girls' Valentine's Day sets
Two-piece sets can be the spice of your little girl's life this Valentine's. Wear them together for an outfit you know will work perfectly together, or grab a couple and let your little one try her hand at mixing and matching.
Girls' Valentine's Day tops
There are graphic tees and tops to match any vibe your girl wants to go for. From a sporty short-sleeved tee to a bright red sweatshirt (for the colder weather), these options can be paired with leggings, jeans, or her favorite tulle skirt.
Girls' Valentine's Day bottoms
When it comes to full-on festive-ness, these bottoms don't miss. Pair them with a matching top to go all in the hearts, pink, and red, or if your girl likes it a little more subtle, she can rock these bottoms with a plain shirt.
Girls' Valentine's Day accessories
These Valentine's accessories are the cherry on top — literally. A cute headband or bracelet can add spice to any outfit your girl chooses to pull from her closet. And the fashion doesn't stop after February 14. These pieces are cute enough to wear all year long.
So, what will your little Valentine wear on February 14? Snap all the pics to remember her fashion at this age (and chances are, she'll want that headband back when she's older).
This article was originally published on