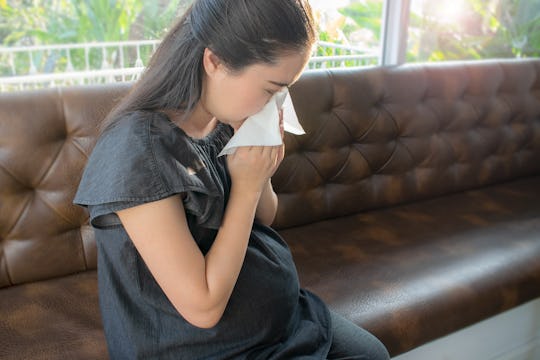 Shutterstock
These 7 Pregnancy Symptoms Could Mean Your Immune System Is Slacking
No doubt about it — growing a baby takes a big toll on your body. And since your health can already be pushed to its limits (quite literally), it makes sense that you might have a greater likelihood of getting sick. That's why some women feel like they're perpetually getting over a cold when they're pregnant. But it's important to know the signs your immune system is low when you're pregnant. That way, you'll be able to tell if what you're experiencing is a normal pregnancy symptom or something that requires a trip to the doctor's office.
Generally speaking, the indicators that an illness is coming on aren't all that different for women who are pregnant and those who aren't expecting. You're going to feel rundown, tired, and you might be sneezing and coughing regardless. Where it differs is usually in the intensity and duration of symptoms. "Since the pregnant mom is more prone to illness due to a weakened immune system, it is best that she tries to do what she can throughout pregnancy to remain healthy," OB/GYN Dr. Renee Wellenstein tells Romper. "That means avoiding sick contacts, staying well hydrated, getting adequate sleep and eating a nutritious, balanced diet."
But if you're already feeling a little achy and achoo-ing, you might want to read these tips to see if your immune system is compromised — and how to get healthy again.