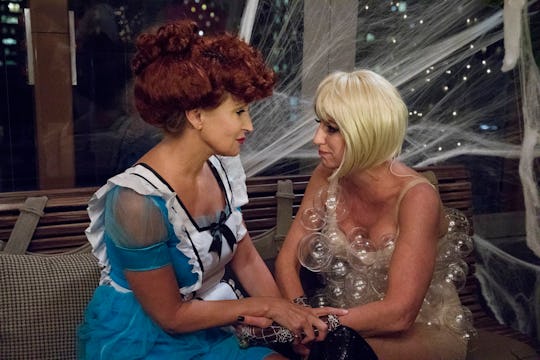 Heidi Gutman/Bravo
Here's Where Sonja Morgan & Dorinda Medley Stand After 'RHONY'
The Real Housewives of New York endure feuds on a regular basis, but one conflict in particular has come to a head over the course of the past two seasons. It all started when Dorinda didn't invite Sonja to the Berkshires, citing her already heavy drinking as the reason she wasn't invited to the alcohol-soaked festivities. But things have only gotten worse since then, which has left fans wondering: are Sonja Morgan and Dorinda Medley still friends after RHONY? They've both been pretty diplomatic in the press over the last few months, despite really going through it this season.
Early on in Season 10, we saw a brunch implode quickly after Sonja drew a parallel between losing a husband through divorce and becoming widowed. Dorinda got extremely agitated about it and the afternoon ended in a screaming match during which Dorinda accused Sonja of cheating on her ex-husband, thereby triggering the divorce herself. It was super tense and we already know both of these women feel sensitive about their marriages. In a later episode, Dorinda got set off when Sonja talked about how she wears "her family's" crest every day. Dorinda pointed out that it was actually the Morgan family crest, and Sonja wasn't a Morgan anymore. She was splitting hairs, but the meltdown was epic all the same. So where do the pair stand now? It seems like they're tentatively in communication.
Dorinda told Vulture in April that the pair didn't speak all last summer and that Sonja didn't respond to her Berkshires invite. Then, she says, Sonja began "making fun" of her in the press for setting up Luann with Tom. "I don't mix synthetics and silks," Dorinda said. "The whole summer I was like, 'You go low, I go high.' Because I don't go to the press. When I'm off, I'm off. If you have a problem, you pick up the phone and call them."
But things bubbled over when Dorinda and Sonja saw each other in October. Continued Dorinda:
We work through it. We have some twists and turns. We're speaking today, I'll say that much. We're building it back up. Here is the thing that's amazing: We have so much in common. We have very similar backgrounds. We're both empty nesters and we're in a transition phase in our lives and we didn't think we were going to be where we are now. She thought she'd be with Mr. Morgan and I thought I'd be happily married to Richard forever. That is the sad part. Our relationship went all wrong really quickly and it was hard to figure out why.
For her part, Sonja seems to be brushing off Dorinda's outbursts, which may be for the best.
"I don't mind when Dorinda vents on me. You know, she can talk to me all she wants about Richard and the pain she's going through," Sonja said at OK! Magazine's Summer Kick-Off event, according to Bustle. "But, when she starts to attack things that affect my family and my daughter, that's when I start to draw the line. And I start to wonder if I even want to be friends with her."
"I do care for Dorinda and want what's best for her, as well, as I would for anybody on this Earth," Sonja added, but: "I'm happy! Why would I want to be associated with someone who's hating on other people?"
Hopefully Sonja self-imposes a gag order on talking about Dorinda to the press and both cast members can cool off in separate corners of the Northeast this summer. This seems like a squabble that could blow over if the two take some space and focus on grieving their own individual marriages away from one another.