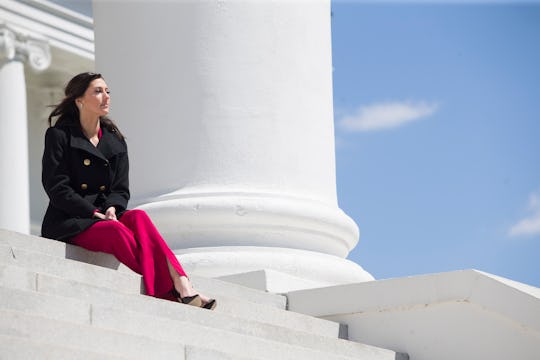 Paul Hebert/ABC
These 'Bachelorette' Memes Of Becca Looking Out The Window Are Amazing
This has been a remarkably solid season for Bachelorette memes, thanks largely to the fact that so many of this season's guys have '90s/'00s throwback doppelgangers, from Jason's uncanny resemblance to Andrew Keegan to Chris' remarkable reenactment of Eminem's "Stan" music video. And let's not forget Joe the Grocer, who would never do Becca like the vast majority of guys this season have. But Becca looking out the window memes from The Bachelorette are some of the genre's best and if you haven't seen them yet, then you're missing out.
The screenshot that inspired the meme came from Monday, July 2's episode, during which Becca found herself feeling bummed out on the group trip to Virginia. As the show reminded viewers numerous times: Virginia is for lovers. But mostly what happened during the course of the two-hour episode was in-fighting amongst the dudes, namely Chris and Lincoln, both of whom were sent home for their embarrassing antics before the week was over. Poor Becca had to try and make the best of a one-on-one date with Leo while still reeling from a drama-fueled group date (oh yeah: this group doesn't even have the decency to shield Becca from their conflicts), leaving her feeling "emotionally drained and exhausted." For his part, Leo did a great job of giving her space to feel her feelings, but we still got a mopey shot of Becca staring longingly out a window while contemplating her group of tormentors — er — suitors.
The meme evolved from imagining Becca's inner monologue...
To meta observations from viewers...
To Disney crossovers...
To every meme's final form: completely decontextualized from its original content.
Becca's had a rough go of it this season and she isn't shy about expressing her disappointment when the guys behave badly. On the very first night, she had to deal with one contestant from her hometown — who wanted nothing to do with her during the multiple times they'd previously met — all of a sudden showing up on her season of The Bachelorette. (She cut him virtually on the spot at the first cocktail party.) Then, she learned that one of her favorite guys, Colton, had previously dated her friend and fellow Bachelor alum Tia. Becca was left to deduce if he was truly there for her or if he had signed up for the show hoping Tia was the Bachelorette.
An early feud also erupted between Jordan and David, which resulted in this season's oddly familiar two-on-one date. They both spent their time with Becca tattling on each other — a disturbing trend this season, which frequently leaves her in the position of managing the guys' feelings. It isn't Becca's job to referee conflicts, nor is it her job to mitigate drama. The guys should be self-policing in this regard, honestly, not forcing Becca to act like a high school teacher.
Becca had just sent both Jordan and David home, probably hoping for smoother sailing as a result, only to be met with yet another tense conflict. Lincoln and Chris had been squabbling for a few episodes and it finally came to a head during the group date in Virginia. A "Beccalection debate" was staged between the guys in front of a group of Bachelor fans to determine who would be Becca's best "running mate" in life. Instead of focusing on their individual relationships with Becca, Lincoln and Chris took shots at each other, leaving her super embarrassed in front of a crowd of supportive fans. It was totally gross, and it makes perfect sense why Becca was feeling a little blue this episode. Hopefully, with both Chris and Lincoln now gone, the group can shift toward a more positive dynamic as they head to the Caribbean.