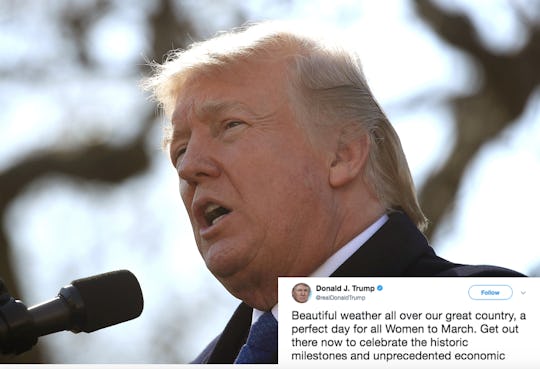 Mark Wilson/Getty Images News/Getty Images
Donald Trump's Response To The 2018 Women's March Proves He *Really* Doesn't Get It
Today, a year after President Donald Trump was inaugurated, women, allies of women, and feminists pounded the streets for the 2018 Women's March. Last year, the movement was huge, sending thousands upon thousands of women straight into activism with their arms held high, a direct response to Trump being inaugurated as president. A year later, that same determination and perseverance has stuck around, especially as the president has spent the last year being just what everyone expected. Which is why Donald Trump's response to the 2018 Women's March is just more proof that dude, he really doesn't get it.
I mean, not that anyone expected him to. For last year's Women's March, Trump took to Twitter in the early hours to act as if he had no idea why anyone would be protesting in D.C. that particular day. "Watched protests yesterday but was under the impression that we just had an election! Why didn't these people vote? Celebs hurt cause badly." A few hours later, a more canned response came from the president's Twitter account — "Peaceful protests are a hallmark of our democracy. Even if I don't always agree, I recognize the rights of people to express their views." Can you guess which one was written by the president and which one was written by someone who works in his White House?
All jokes aside, the fact that President Trump tweeted this out on the second Women's March is really... dumbfounding. It's obvious Trump doesn't understand the first thing about the march, its mission, or why it exists. If he does, it's then obvious that he just doesn't care and will further push his agenda on an event that literally has everything and nothing to do with him all at the same time. While the Bureau of Labor Statistics has noted that the unemployment rate has gone down in the past year, it's pretty obvious that none of the women marching today are marching in celebration of Trump's "economic success."
And you guys, Twitter was not here for his awkward response.
"Honey, the march is against you." Surely someone in The White House is prepared to whisper that into the president's ear? These Twitter users aren't really wrong, either. According to the website for the Women's March, the mission of the march is pretty obvious — to spread the word that women are here to resist, they are here to empower and engage in their communities, and they are here to lead a grassroots movement straight into the heart of politics:
The mission of Women's March is to harness the political power of diverse women and their communities to create transformative social change. Women's March is a women-led movement providing intersectional education on a diverse range of issues and creating entry points for new grassroots activists & organizers to engage in their local communities through trainings, outreach programs and events. Women's March is committed to dismantling systems of oppression through nonviolent resistance and building inclusive structures guided by self-determination, dignity and respect.
For Trump to use this day, this event, and this movement to further spread his belief that, you guys, America is literally better than ever right now with him at the helm, is gross and just downright awkward. The people who truly support the march, are apart of it, and know what these women are fighting for aren't fooled. His tweet isn't a vision of support or praising the marchers — it's another way for him to talk over women and misinterpret their work to fit his agenda. You know, the kind of thing women face every day from plenty of other men. The kind of thing that propelled them to march in protest of a president who said that he could grab women by the p*ssy.
It's a pretty safe bet to assume someone nudged President Trump and reminded him that today was the Women's March, but his spin on it sounds very much like something he could put together.
Check out Romper's new video series, Romper's Doula Diaries:
Watch full episodes of Romper's Doula Diaries on Facebook Watch.