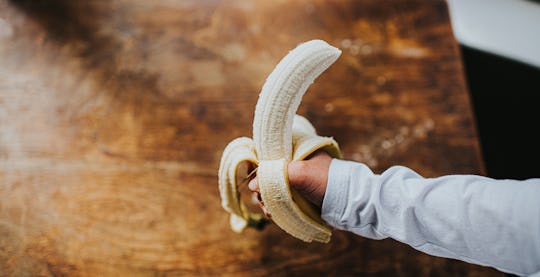 Catherine Falls, Getty Images
35 Moms Share The Go-To After-School Snacks Their Kids Devour
When you're a mom, a big part of your parental duty is to be doling out snacks on the daily. But serving up the same 'ol, same ol' can get boring pretty fast, especially if your child is eating more than one mini meal a day. That's when knowing what other mommas are offering their kids food-wise can be helpful. These 35 moms' go-to after-school snacks are wholesome, healthy, and sometimes hilarious.
Even though the dietary breakdown of a small snack might seem inconsequential, the food your child eats in between breakfast and lunch (or lunch and dinner, or both) can pack a nutritional punch. "Think of snacks as a mini-meal that acts as a bridge to get your kids from one meal to the next," Kara Hoerr, MS, RDN, CD, a registered dietitian tells Romper in an email. "To do this, aim for at least 2-3 food groups at a snack (think apple and cheese slices, celery and peanut butter, or crackers with fruit and cheese)." Not only can this ensure that your child gets a wide variety of foods, but it can also tempt them to try new textures and flavors, too.
But whether you choose to send your child for in-school instruction, do distance learning, or even homeschool, one thing is for certain: your kiddo is going to want something to munch on after a day of learning. From all-natural to suspiciously sugar-laden, check out this array of after-school snacks from real moms.