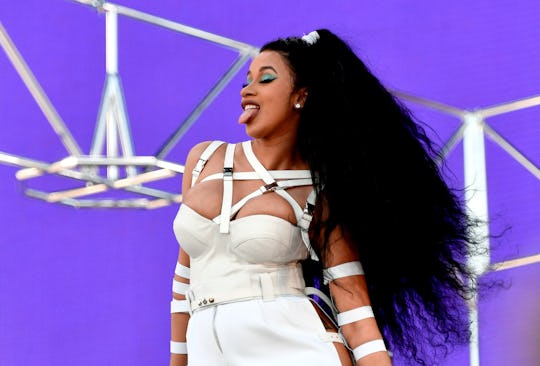 Frazer Harrison/Getty Images Entertainment/Getty Images
OK, Fans Definitely Have Some *Feels* About Cardi B's Baby Girl's Name
Cardi B and Offset are officially parents, and while fans are thrilled to hear that the power couple has finally welcomed their baby girl, they're also pretty invested in the baby's name. I mean, with parents like Cardi B and Offset, you kind of knew they weren't going to go with Olivia or Anne for a baby name, right? But little Kulture Kiari Cephus isn't exactly a name fans expected, and their reactions to Cardi B's baby's name are seriously too much.
Everyone's obsessed with celebrity baby names, especially when they're as unique as the one Cardi B and Offset chose for their daughter. Remember years ago when Gwyneth Paltrow named her child Apple and the tabloids went bananas? (That name has grown on me so much now, and I think it's totally adorable.) That was just the start of our obsession with unique baby names. Now that we've lived through North, Saint, and Chicago West, Kylie Jenner's baby Stormi, and Blue Ivy, Rumi, and Sir, really, nothing should phase us anymore. But fans simply couldn't help themselves when the news broke that Cardi B and Offset had named their daughter Kulture Kiari Cephus. According to Complex, Cardi B had previously shared that Offset chose the name for their daughter, using his first name Kiari as their baby's middle name, and giving her his last name Cephus as well.
And while there hasn't been any confirmation, fans are assuming the baby's first name, Kulture, is inspired by Migos' album, Culture. And some of them? They're not so sure about this entire moniker.
But some fans remain loyal to Cardi B and Offset, reminding others that literally no one has any say in a child's name except the parents. (And OK, maybe the child when they're old enough to understand.)
While some were more confused about all of the Offset love in the name, noting that it's like Cardi B's not even involved in the naming of her child. I mean, you don't have to have a Cardi B junior, but if the rumors are true that Kulture is based off of a Migos album and then the baby has both Offset's first name and last name, I'm kind of thinking it would've been nice to have some mama inspiration in there, too.
But no matter where the inspiration came from, it's obvious that Kulture Kiari Cephus is a name chosen with love and has a ton of meaning embedded into it. In an appearance on The Ellen Degeneres Show back in April, Cardi B told the host that the baby name had already been chosen and that it was all Offset's idea. But she didn't sound anything but happy about it. "My dude named the baby," she said. "I really like the name," reported People. When she was pressed for more details, she apparently said that she would let Offset share the name since he was the one who came up with it.
Honestly, I think it's really sweet that Offset was so invested in their daughter's name and that Cardi B let him choose. I know — it's a low bar to set when you ask a man to just be interested in their child's name, but it's not always easy for parents to agree on a baby name. You know what is easy? For dads to often feel left out of the entire process. So I'm thrilled to hear that the two parents were able to find a name they loved, with so much meaning wrapped into it, and give the credit to Offset. One day their little girl will know just how special and sweet her name is, regardless of the haters. (Oh, little Kulture. There are so many haters.)