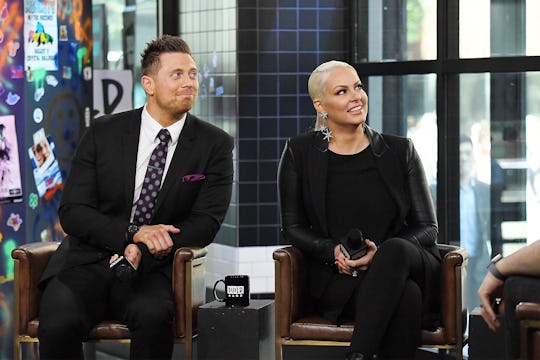 Nicholas Hunt/Getty Images Entertainment/Getty Images
Here's How The Miz & Maryse Met
Total Divas star Maryse and her husband Mike "The Miz" Mizani are getting her own spinoff series on USA. The docuseries will follow their relationship all the way through the birth of their first child back in March. Although both have become WWE stars in their own right, fans may remember The Miz from his stint as a Real World: Back To New York star turned Real World vs. Road Rules regular. So how did The Miz and Maryse meet? It was, as you might have guessed a match made on reality TV.
Miz hosted the 2006 Diva Search, on which Maryse was competing as a contestant. She made it into the top 8 (though was eliminated shortly thereafter) largely thanks to — wait for it — roasting The Miz. "He was so mean to me," she said in a 2013 interview with Wrestle Talk TV. "Oh my god. I couldn't speak English, and he was rubbing it in my face. He was just like, 'You can't speak English. What are you doing here? You can't work with the biggest sports entertainment company in the world if you don't speak a word of English.'"
Maryse, who is French-Canadian, decided to enact some theatrical revenge by creating a promo during one of the competition's challenges that poked fun at Mike.
About a year later, well after the competition had drawn to a close, the pair were both in attendance at a Monday Night Raw show and they hit it off. "She was picked [for Diva Search], but we didn't start dating then," The Miz told Cosmopolitan. "About a year later we started talking after one of the Raw events. I was like, 'Man if only I could get a girl like this. One of these days I will get a girl like this and I will be so happy.' And I did!" Six years later, The Miz proposed to Maryse in the very same Ritz-Carlton Los Angeles hotel room where they first met doing Diva Search and they were married in the Bahamas in 2014.
Although Maryse was released from her WWE contract in 2011, before she and Miz were married, she became his manager in 2016 and their relationship soon became a part of his character's storyline. That same year, she joined the cast of Total Divas Season 6 and stayed on for Season 7. Now, the pair will star in their own spinoff series titled Miz & Mrs. The first six-episode season is set to premiere on July 24, featuring a very pregnant Maryse, and will document the birth of their daughter Monroe Sky. It's not yet clear whether Maryse will rejoin Total Divas for Season 8.
The couple first announced the pregnancy — you will absolutely never guess — in front of a Monday Night Raw crowd last September. According to People:
"My wife and I have been thinking long and hard about how we wanted to announce this special news," The Miz, 37, told the crowd. "We thought about it long and hard, and we thought there's no better place to announce it than the first place that we met, and that is here in WWE in front of all of you. So without further adieu, my wife Maryse and I we're, uh … go ahead, babe," he said signaling Maryse, 35, who exclaimed, "We're having a baby!"
Maryse later announced baby Monroe's birth on Instagram with a standard hands-in photo, presumably because newborn skulls are too delicate for those adorable noise-canceling baby headphones, and they couldn't traipse her out into the ring right away. Tune in to see how the new family moves from LA to Austin, TX on a tour bus with a two-week old when Miz & Mrs. premieres.