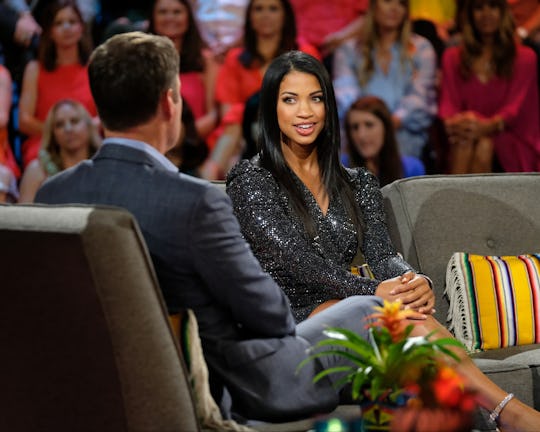 John Fleenor/ABC
Katie Is Having A Rough Time Being Engaged After 'Bachelor In Paradise'
After revealing that she no longer wears the engagement ring Chris Bukowski proposed with during the final rose ceremony, Katie said she was "exhausted" on the Bachelor in Paradise reunion show. When it came to her relationship with Chris, she said that the pair were still engaged, but communication has been difficult for the couple. The whole thing was super relatable and fans really rallied around a clearly overwhelmed Katie.
Before Chris came out to join her on stage, Katie revealed, "I just put in so much effort every day and I love him so much, but I put in so much that my tank empties, and if I'm not getting it filled, I break down."
She believed that Chris was capable of loving her in the way that she needed him to, explaining that she gets "glimpses" of the potential she first fell in love with. But Katie had serious doubts about whether that potential could ever "come to fruition."
"It's just the reciprocated effort," she went on to say, "And I feel guilty. I always feel like I'm complaining but really, I'm just asking for the bare minimum."
Katie didn't want things with Chris to end, but she felt frustrated by how little effort he seemed to be putting into the relationship when she was trying so hard at it. "I want it to get better, but I want him to want it to be better," she explained.
"I'm usually really happy-go-lucky," Katie went on to say through tears. "But I feel that I've come to a darkness, and I hate it."
When Chris Harrison asked Katie what she needed to hear from Bukowski, she troublingly admitted that he was great with his words — the problem was that his actions didn't follow through on those commitments or professions of love.
Katie did say that she trusted Chris, however, and when he joined her, he, too, admitted that the relationship had been "a rollercoaster," owing partly to the relatively short amount of time the pair had spent together before getting engaged.
Part of the problem, it seemed, stemmed from Katie's rewatch of the season as it aired in real time. She hoped watching it back would reaffirm for her how much Chris loved her by revealing how deep his feelings were behind the scenes. But what she got instead was even more insight into just how ambivalent he was feeling all season.
She said she had never felt so insecure in a relationship, and even though Katie understood that people show love in different ways, it seemed painfully obvious that she was struggling with feeling unloved, unappreciated, and unwanted. It was tough for fans to see her in so much pain.
"It's just been a guessing game," she finally signed. "I don't know when I'm going to feel that my tank is filling up because I've been emptying it for everyone else. It just doesn't feel fair."
In the end, Chris promised to work harder at being more giving and emotionally supportive. (Harrison even threatened him to "be better.") Katie agreed to take his ring back, but it looks like this couple has a very long road to the altar, if they can make it there at all.