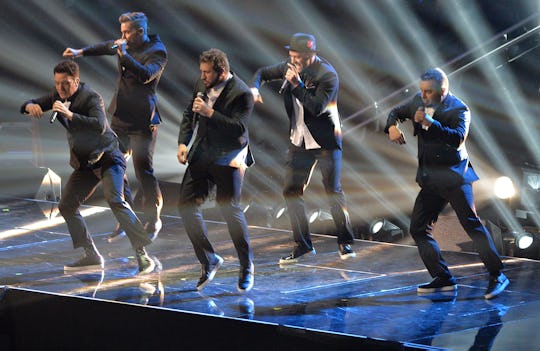 Rick Diamond/Getty Images Entertainment/Getty Images
*NSYNC Doesn't Appear At The Super Bowl & Fans Are Devastated
With much controversy, Justin Timberlake returned to the Super Bowl halftime show Sunday night for the first time since the infamous nipplegate scandal in 2004 cost CBS a $550,000 indecency fine by the FCC, blacklisted Janet Jackson, and — what a surprise — skyrocketed JT's solo career. Jackson had already confirmed that she wouldn't be making a redemption appearance during his set, but *NSYNC didn't appear at the Super Bowl either, leaving fans devastated.
This was Timerlake's third appearance on the Pepsi halftime show stage. Before his 2004 performance, he also played the 2001 show with *NSYNC during an all-star lineup which included Britney Spears, Aerosmith, Nelly, and Mary J. Blige. Super Bowl halftime shows are a rich breeding ground for band reunions — the most famous one in recent memory, of course, is the reunion of Destiny's Child at Beyoncé's 2013 show. To quote Bey: "I don't think they can handle this," and she was right. Fueling speculation that *NSYNC would reunite this year was the fact that Joey Fatone was spotted in Minnesota leading up to Super Bowl weekend. But he insisted he was just there for events and no reunion was in the works. He even bet TMZ $1,000 that he wouldn't be performing. (Then again, that's a pretty conservative bet for Joey Fatone.)
Timberlake has a pretty deep bench of high-profile collaborators and he could have brought any number of them out at the Super Bowl. Twitter was upset that *NSYNC didn't show, yes. But not one person from the roster of hip hop artists he features on his tracks appeared either. To his credit, Timberlake did confirm all this at a press conference in Minneapolis leading up to game day. But speculators gonna speculate, and so rumors continued to fly up until the performance.
"To be honest, I had a ton of grand ideas about special guests. There's a whole list. I think Vegas has a lot of odds on it, from *NSYNC to Jay [JAY-Z] to Chris Stapleton to Janet," he said at the press conference, according to People. People also noted that "he wanted to shine the spotlight on his trusty longtime band, the Tennessee Kids, instead."
Said Timberlake, "I feel like they're my special guests and I'm excited to rock the stage."
The Super Bowl halftime show was pretty straightforward and a little sleepy. It featured a medley of his hits, lots of dancing, a sort of strange outfit to introduce us to his forthcoming Man of the Woods phase, I guess, and a tribute to Prince. But even that was problematic, Twitter noted. When news first broke of a possible Prince hologram at the halftime show, fans pointed to a 1998 Guitar World interview in which Prince explicitly stated that he'd never want to be depicted as a hologram after death. According to Fader, when asked about it in the interview, he said:
"That's the most demonic thing imaginable. Everything is as it is, and it should be. If I was meant to jam with Duke Ellington, we would have lived in the same age. That whole virtual reality thing… it really is demonic. And I am not a demon."
In the end, the hologram idea was scrapped in favor of a video projection. But, according to Hypebeast, Timberlake and Prince still have a longstanding feud, which was never resolved before Prince's death. Timberlake riffed off his work without crediting him, once made fun of his appearance when accepting a Golden Globe on his behalf, and hosted his album release party at Prince's estate Paisley Park, when Prince was a devout Jehovah's Witness and never allowed alcohol on the grounds. Some Prince fans continue to harbor resentment over what they consider to be a lack of respect from Timberlake, and they're rightfully furious that he was chosen to honor him.
For all the misses in Timberlake's performance, it seems like an *NSYNC reunion is the one thing that could have brought everyone together. Alas, we'll have to keep waiting on that one.
Check out Romper's new video series, Romper's Doula Diaries:
Watch full episodes of Romper's Doula Diaries on Facebook Watch.