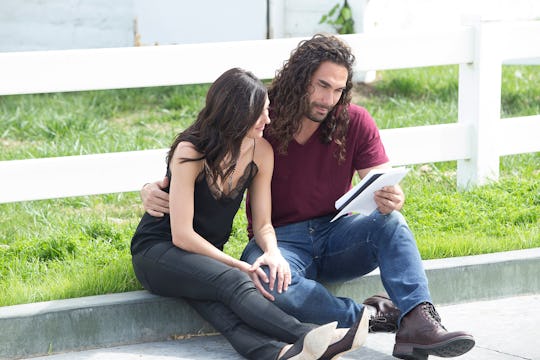 Paul Hebert/ABC
Leo Really Impressed Twitter On His 'Bachelorette' One-On-One Date
Becca is down to her final nine guys this season on The Bachelorette but one contestant we haven't heard much from, despite his very recognizable mane, is Leo, the stuntman from Los Angeles. He finally got his first one-on-one date when the group headed off to Virginia for an educational trip, and with that, it's become pretty clear that Twitter is rooting for Leo on The Bachelorette.
It was a little touch and go for Leo as the date first got going because Becca had just come off a truly heinous group date the day before, with Lincoln and Chris very publicly beefing during a presidential "debate" challenge to see who could be Becca's best "running mate." The squabble unfolded in front of fans and Becca clearly felt super embarrassed. This season's Bachelorette has been particularly strict about nipping house drama in the bud; she has no qualms calling out the guys for centering on themselves and otherwise acting childishly when they're supposed to be focused on her. Things got so bad during the group date, Becca actually asked for a break in the middle of the after party to collect herself. And the bad vibes from that night unfortunately carried over into her new day with Leo.
Becca, of course, being a paragon of emotional intelligence, could feel that she wasn't being open and present on her date, so she pulled Leo aside after a plane ride over the Chesapeake Bay to explain herself. She confessed that she'd been feeling emotionally drained and exhausted after managing the drama between the guys.
"Don't feel any pressure to have to go on a date and fake have fun or anything," Leo reassured her, inspiring a collective swoon from Bachelor Nation. "We can do nothing, if you want."
He went on to add:
I think it's responsible to take an engagement very seriously, and I would only go down on one knee if I really truly wanted to spend the rest of my life with you. And I know that I'm kind of like a caricature, and like, it's difficult to look at me and think, 'This guy wants to settle down,' and stuff, but I just want you to know that it's a great time in my life to be serious in a relationship, so you don't have to worry about that. Like, I'll tell you right now that I'd be yours in the real world if you wanted to be with me.
So Leo is gentle, makes space for Becca to feel whatever she needs to feel, is self-aware about how he's perceived by the world, and promised Becca that he's genuinely only interested in a mutual good fit? Needless to say, the outdoorsy activity portion of their date (oyster shucking in the Chesapeake, naturally) went off without a hitch. Becca was obviously soothed by his pep talk, but Twitter was even more excited.
"I wanted her to feel okay," Leo added in a cutaway interview. "There's no reason for her to feel any bad feelings going into dating the last nine guys. She should feel like she has freedom to choose and do what she wants and make the best decision for her future. And I wanted to make sure that she felt that with me."
Leo killed it not just because he was looking out for Becca, or for himself, but because he was actively making space for both of their wants and needs. He definitely feels like one of the most grounded guys this season, and, not for nothing, but both of the pot-stirrers went home at the end of the episode. I'd like to think that Leo's firm support was at least partly responsible for facilitating that.