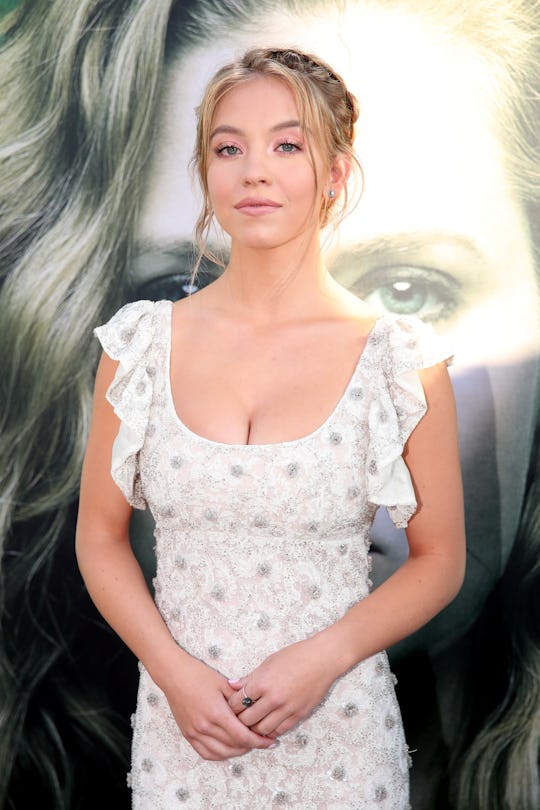 Christopher Polk/Getty Images Entertainment/Getty Images
Here's Where You Know Alice On 'Sharp Objects' From
Sharp Objects is HBO's latest attempt at a thriller novel-to-miniseries adaptation in light of its hugely successful first season of Big Little Lies — and it looks like the female-led project is producing similar dividends. With an all-star cast, a twisty tale of small-town murders, and plenty of skeletons in the anti-heroine's closet, Sharp Objects offers viewers plenty of reasons to tune in. There's one particularly recognizable actress with a recurring role on the series, so fans may be wondering: who plays Alice on Sharp Objects? Sydney Sweeney just met a rather watery end on another very popular female-helmed show.
She recently played Eden Spencer on The Handmaid's Tale: Nick the driver's extremely underaged wife, handpicked by the powers-that-be in Gilead for a truly stomach-churning wedding ceremony. Eden is very young and very pious, eager to serve her husband in all her "duties" as a wife, and she can't understand why he seems so repulsed by her. Despite her best efforts to remain true to god and country, her neglectful home life leads her to fall in love with a young Guardian. June, played by Emmy Award-showered Elisabeth Moss, encourages the girl to make a run for it and pursue love, but Eden gets caught and, and, well, no spoilers, but Gilead is not kind to star-crossed lovers.
Sweeney's glow-up from prestige streaming drama to premium cable is a huge step for the 20-year-old actress, who earlier this year starred in some lighter Netflix fare. On the sleeper hit Everything Sucks, she played Emaline, the love interest of Kate, a queer character at the center of the story. In a refreshing departure from every single awkward gay teen storyline we see on TV, Emaline actually reciprocates Kate's baby queer feelings, despite having never openly identified as gay. Bless! A poignant high school comedy and a '90s period piece with the soundtrack to match, Everything Sucks was super charming and deeply resonated with marginalized audiences. But unfortunately, Netflix axed the show after its first season, leading to pretty intense fan backlash on Twitter.
Sweeney's latest project, Sharp Objects, shares more than a similar format to Big Little Lies; they actually have the same director, Jean Marc Vallée, who was credited with delivering Big Little Lies' signature tone. "Because of Jean-Marc Vallée, it will have that Big Little Lies feeling," said Sweeney in an interview with Harper's Bazaar, "but it's much darker and way more twisted."
Her character Alice and Amy Adams' character Camille first bond over their shared experience with self-harm. Alice was initially intended to be a small supporting role, but Sweeney's character wound up in all eight episodes of the series, thanks to the vision Vallée thought she brought to the part.
"It was very heavy, the research I put into it. I would find videos of girls talking about it and I went to hospitals where there were patients that self-harmed," she said. "It was dark going there...But being surrounded by amazing crew that we had, it was easy to come out of it and go into a safe environment."
She also reports growing close with her co-star, despite initially feeling nervous around the five-time Oscar-nominated actress. "Amy Adams is incredible and inspiring — she's amazing," Sweeney gushed. "We just talked about life which was interesting...because our characters started bonding, we started bonding. We needed something to pull us out."
After this project, Sweeney returns to comedy with a role in Pete Davidson's upcoming movie Big Time Adolescence. It's no wonder Sweeney is poised to become what Refinery29 called "the summer's hardest working young actress."