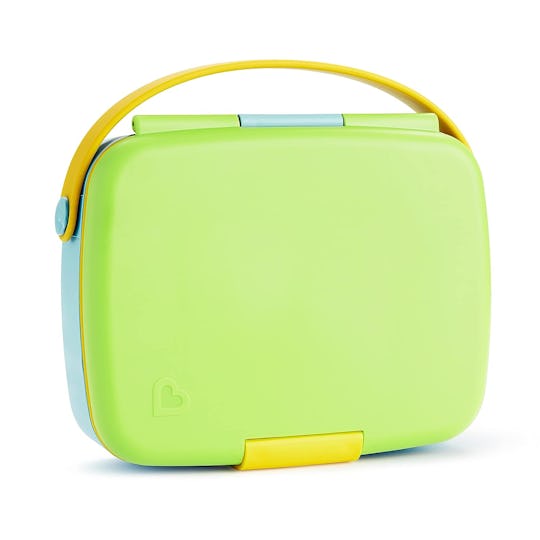 5 Great Lunchboxes For Toddlers & Kids With Fine Motor Delays
From a mom who tested many, many options.
We may receive a portion of sales if you purchase a product through a link in this article.
One thing I put a surprising amount of thought into when preparing my son for preschool this fall was which lunch box to get him. You see, he has fine motor delays (a byproduct of his mild cerebral palsy diagnosis), which essentially means he doesn't have the most articulate and consistent hand control or the strongest grasp. And until my husband and I started to play School to get him used to carrying, opening, closing, and eating out of his lunch box, we just assumed we would be ordering more of the same containers we were sending his big sister to school with at his age. Cue an afternoon of frantic online shopping to find the best lunch box for kids and toddlers with fine motor delays.
There are a lot of options out there and 80% of them are so similar when perusing online, but even small discrepancies can feel like a big deal when you're looking for something very specific. I know it's inconvenient, but I really found that holding and interacting with multiple options helped me make the best decision for my child. And another thing I had to remember throughout the process: My kid is still growing and evolving and getting stronger every day. Sure, he might be struggling with trying to unclasp a plastic latch on his own today, but he'll probably get it eventually, and there will always be people around to help him until that day comes. So even if the product you choose doesn't feel "perfect" as soon as you introduce it to them, give them time to get used to it, because eventually they will.
Here's what I was looking for when looking for the lunch box that would work best with my kid with fine motor delays:
Easy-to-open
Leakproof (not for something like soup, but for sauces, dips, etc)
Safe (BPA-free materials)
Not too heavy
Bento-style (multiple compartments) so only one container needs to be opened
Has a built-in handle
Dishwasher-safe
Cute
While I didn't find one that checked every single box, I did find one that fulfilled 85% of what I was looking for, knowing that the other items wouldn't be a concern with time and practice.
The best lunch boxes for kids with fine motor delays
This Munchkin lunch box is the one we found worked best. It holds a reasonable amount of food plus accommodates utensils (which are included) and a napkin (which we shove in one of the long and narrow compartments). It also, and this was important for us, has a handle, which makes it easy to tote around and is one less thing that he has to wrestle open at lunch time. (With a handle-less container I would've had to put the box inside a fabric-like lunch container, probably with a zipper). Another perk about the utensils is that their wide handles are easier for a child with fine motor delays to grasp.
The one thing we don't love about it is that it's on the heavier side, and most of these Bento-style boxes are. But this is one of those things I knew he would eventually get used to so it wasn't a deal-breaker. At first, he could not open the latch on his own, but was able to less than a week in.
Pros: built-in handle, multiple compartments, utensils are included, dishwasher safe, only one latch to open, simple design, affordable
Another parent-favorite is the OmieBox. This one has a leakproof thermos one could use if they were packing something liquid, like soup, and is insulated. Like the Munchkin, it has an attached handle and only one latch to unlock (and it's actually easier to open than the Munchkin), but I found it to be a little too heavy for my kid and a lot more expensive. Plus the company recommends hand-washing it, which might be a big deal for you, but is for our household. That being said, it is a great, compact lunch box (a little deeper than some competitors), so it can hold more than you might initially think, and the design is very simple and cute.
Pros: insulated, handle attached, thermos for liquid foods included
A fellow parent, whose child also has fine motor delays, specifically recommended this popular option: the Bentgo insulated Bento Box. It's got nearly 60 thousand reviews on Amazon (and a 4.5-star rating). The inner shell is dishwasher and microwave safe, but the company recommends hand-washing the outer shell. Unlike many of the boxes on this list, this one has skid-proof feet so that your child's lunch won't go sliding across slippery surfaces. It comes in about 30 different patterns and color combinations, so you're bound to find a design that aligns perfectly with your child's interests.
Pros: parent-approved, mid-range price, endless design options, dishwasher- and microwave-safe
The Cat & Jack Bento Boxes are really simple and they get the job done. For just $5 you get a dishwasher-friendly lunch box option with three separate compartments, and while the four-latch system might be intimidating to some parents of children with fine motor delays, you won't know if they can or can't until they try it. And once two side-by-side latches are released, the rest should be much easier to unlock.
Pros: very affordable, dishwasher-safe
The PlanetBox Stainless Steel Bento Boxes have been popular for a while, and we love them for our older child who hasn't experience fine motor delays, but because they don't have a handle, we decided to go a different route for our toddler. The latch is secure and easy to open, but it's not the most leakproof lunch box out there. You can purchase separate compartments (either from PlanetBox or from other companies) to nestle into the cavities of this, but we couldn't find something that was easy to open for our child and small enough to fit inside. It's dishwasher-safe and doesn't have any nooks and crannies that most boxes with silicone details might for mold to hide and grow, and it is more expensive than some options out there, but this thing will last you forever. And for those who want to dress it up, you can purchase cute and colorful magnets to decorate the outside.
Pros: Truly long-lasting, simple and easy to clean, magnetic (which can be fun)
The Sistema snack containers (which come in one-, two-, and three-compartment options) is not big enough for a full lunch, but it's what we use for packing snacks. The latch isn't too hard to undo (sometimes our son can option it, sometimes he can't) and the 2-compartment option (because kids like options) fits in the front zipper pocket of a backpack. Just make sure you are removing the rubber gasket in the lid once in a while while washing or mold can form in there — but it's really easy to pop back in.
Pros: lightweight, affordable, dishwasher-friendly, easy to open and take on-the-go.
When selecting a lunchbox for our kid with fine motor delays, I knew that time and practice were just as important as the container itself. All the things that I worried about from the get-go (how heavy the container initially felt and the fact that he couldn't release the latch on his own) weren't concerns after just a few weeks in.