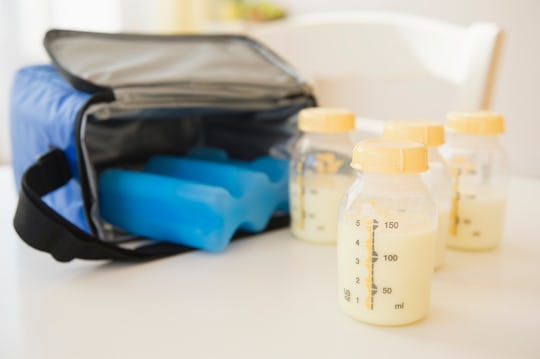 Jamie Grill/The Image Bank/Getty Images
10 Coolers For Pumping Parents That Keep Your Breast Milk Cold All Day
Perfect for days on the go.
Being a working parent? Tough. Being a pumping parent? Also tough. But combining the two? Those are the super-parents in my eyes. Pumping was hard enough for me to handle when I stayed home with my baby, so I give major props to the parents who make it happen while they're working hard at their career. But it's not just pumping while working or traveling that makes things difficult — it's keeping your breast milk cold, safe, and ready to go to your baby. For many pumping parents, getting their stuff ready for work means grabbing a breast milk cooler bag, too.
Although some offices and workplaces have a fridge available for employees to use, it's not always feasible for everyone, which is why breast milk coolers can be great options for parents on the go, traveling, or any other circumstance where storing portable milk is needed. "Cooler bags for breast milk storage are very helpful to the breastfeeding or exclusively pumping mother, as they provide options for milk storage when refrigeration is not available," Susie Condict, RN, IBCLC, a lactation consultant at Maven Clinic, explains to Romper.
What to consider before shopping
Human milk has antibacterial properties that help it to stay fresh when stored in certain conditions. The Academy of Breastfeeding Medicine, for example, states that human milk is safe at 15°C (59°F) for 24 hours. "In regard to safety tips for parents and understanding milk storage, it is essential they know how to properly store expressed milk to maximize its nutritional, immunological, and antioxidant qualities," Condict says. "Human milk can maintain its nutritional qualities with proper storage, making it safe for use. In regard to the breast milk cooler option for storage, it is recommended to keep ice packs in constant contact with milk containers and limit opening the cooler bag."
Whether you're traveling, working in a nontraditional office, or need something a little closer to you, these 10 breast milk cooler bags can keep your milk cold and your mind at ease. It's not easy pumping on the go, but having the right products can seriously help.
We only include products that have been independently selected by Romper's editorial team. However, we may receive a portion of sales if you purchase a product through a link in this article.
Sometimes the equipment you invest in can make or break your day-to-day experience as a new parent. If you're struggling to figure out how to store your breast milk effectively, these coolers can be game-changing.
Expert:
Susie Condict, RN, IBCLC, lactation consultant at Maven Clinic
This article was originally published on