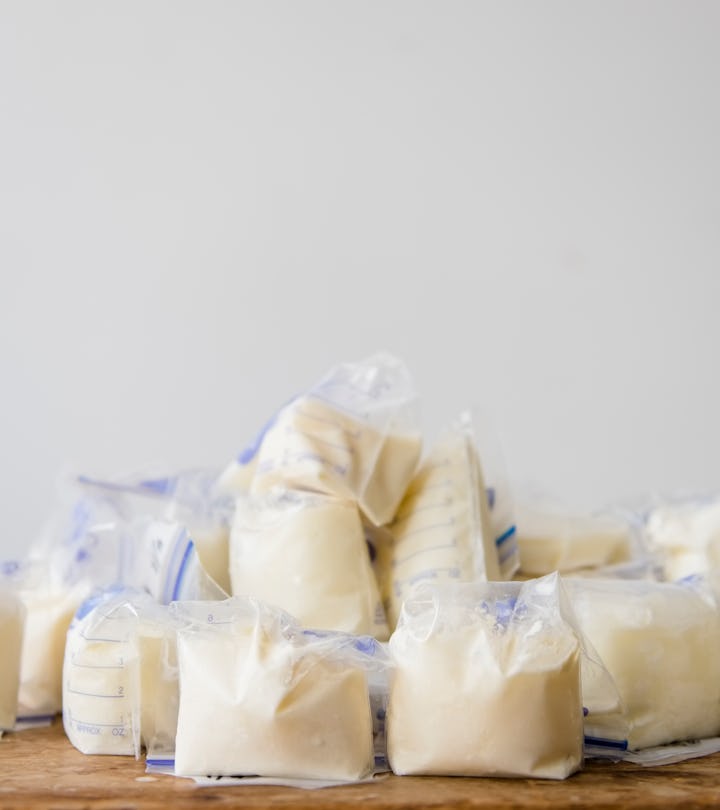 JGI/Jamie Grill/Tetra images/Getty Images
6 Things Your Lactation Consultant Wants You To Know About Milk Storage
Making the decision to breastfeed your baby is an important one. So you definitely don't want to see all that liquid gold go down the drain because you didn't know how to properly store your breast milk. So what are some things your lactation consultant wants you to know about milk storage? The correct info can come in handy for those times when a bottle of breast milk is on the menu for your baby.
Having breast milk at the ready is ideal for those times when you might need someone else to feed baby fast, and necessary if you're a working mom. But since pumping isn't always the most pleasurable experience (except for when you're engorged, in which case it can be a total relief), you want to make sure that the product of your pumping sessions goes a long way. "The most important thing about milk storage is that there's a very big difference between storage guidelines for breast milk and formula, so it can get confusing if you are doing a mixture of both," Darcy Sauers, IBCLC, a lactation consultant, tells Romper. "Formula has to be thrown out after it has been made and been at room temperature for one hour. Breast milk, because it contains antibacterial properties, can stay at room temperature for a lot longer."
Don't have a personal lactation consultant to help you through the process? No problem. These three lactation consultants told Romper everything you need to know about breast milk storage do's and don'ts.
Knowing how to properly store your breast milk ensures that you're storing your milk in a smart and efficient way.
Sources interviewed:
Darcy Sauers, IBCLC, a lactation consultant
Jadah Parks Chatterjee, BS, RN, IBCLC, registered nurse and lactation consultant
Andrea Tran, RN, IBCLC, a registered nurse and certified lactation consultant
This article was originally published on