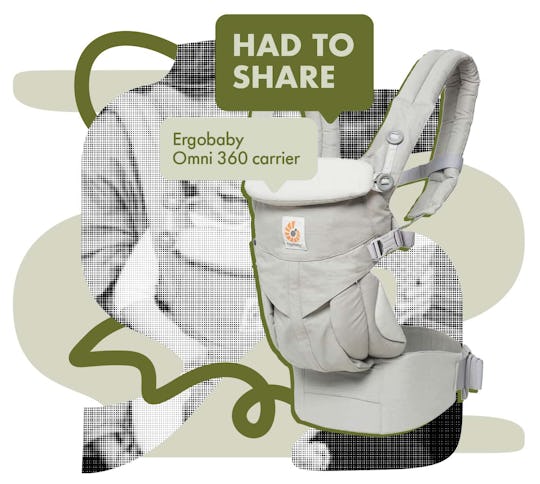 The Ergobaby Omni 360 Carrier Is The Only Baby Carrier You Need
I've had the same one for three kids — she's still pristine.
Had To Share
We may receive a portion of sales if you purchase a product through a link in this article.
I'm a parenting editor and I've had three kids. I've tried a lot of stuff and I've given a lot of stuff away because I knew immediately that it wouldn't work for me. And there is only one item I recommend to every new parent I meet: The Ergobaby Omni 360 Carrier.
I know, I know, choosing a baby carrier is overwhelming. There are so many of them! Structured carriers, wraps, ring-slings — some of them feel like they're only meant for tiny babies and then some look like they are meant for taking preschoolers on 7-mile hikes in the Cascade mountains. Trust me: the Ergobaby Omni 360 Carrier is the only one you need. I used it with my first daughter, but what really sold me was when I had my second and I needed free hands to chase my then-4-year-old. And now baby number three practically lives in it. It's the only way I can grocery shop with three girls.
My first Ergobaby Omni 360 Carrier was given to me as a baby shower gift, and now I own four in different colors and patterns. I have one in the car, one in the house, one in the stroller — all of them ready to go at a moment's notice. You can live your life with just one, I promise, but I want you to know how much I really love this thing.
Stats
Price: $179
Sizes: holds babies from 7 pounds to 45 pounds
Colors: pearl grey, pure black, dusty blue, neutral (also available in collections/patterns)
Who it's for: anyone who has a baby to tote around
When to use: literally whenever and all the time
Pro-tip: you can breastfeed in this pretty discreetly
The specs
Baby carriers can be a lot to figure out if you've never used one before. (I've watched instagram videos on tying baby wraps that made assembling Ikea furniture look like a breezy afternoon activity.) The Ergobaby Omni 360 Carrier does have some straps and buttons, but after a few times wearing it, I swear you'll get it. It works for newborns (starting at 7 pounds) and can carry kids all the way up to 45 pounds. You can wear them facing you, and then once they hit 6 months, you can turn them around so they are facing out. Unlike other carriers, you can also wear this one on your hip, and once baby's 6 months old, on your back as well. You can adjust everything, from how high baby sits up on you to how tight they are against your chest or back with the buckles. And unlike so many other carriers, this one is super easy to tighten and loosen — I do this by myself all the time. People have stopped me in parking lots to ask me how I do it by myself. (The trick is that the entire buckle on the back can be moved up or down to make it easier for you to reach. It's genius.)
The carrier comes with a built-in cover that stories in a pouch in the front, which you can pull over your baby to shield them from the sun or to just shade a sleepy baby from light and distracting hubbub.
The science
One of the big talking points surrounding baby carriers is the positioning of baby's hips and legs in them. The Ergobaby Omni 360 makes sure that babies are put in the "M" position when forward facing, which is optimal for their hips, and the open seat is more like a "bucket" so that their spine curves against your chest and they are sitting in a comfortable, ergonomic position.
Crucially the ErgoBaby Omni 360 is also the most comfortable for me and my back. It has great lumbar support and the shoulder straps are nice and padded and help distribute the weight evenly.
The packaging
The carrier comes in a box and is ready to go as soon as you open it — no assembly or fiddling required.
The maintenance
I've had the same three Ergobaby Omni 360 Carriers for almost five years and they are in perfect condition. They are machine washable (because I would never recommend something difficul to clean) and I throw mine in the wash every so often (or after a diaper blowout).
The results
I wear this whenever I'm out and need extra hands for my other kids, but it's also just a sweet way to keep baby close even if they are your only one. And there is nothing like a carrier nap. Pop your baby in, let them fall asleep, and you can just carry on with your day shopping, taking a walk, going out to eat, whatever. My babies have literally slept in this thing while on rides at Disney World. It's magic.
The fit & feel
The Ergobaby Omni 360 Carrier is by far the most comfortable baby carrier I've tried, and it is very easy to adjust. Even if you're worried you've got it wrong, just start pulling tabs. It's easy to see where each buckle goes and to adjust the fit wherever you need.
Also if buckling the back is too tough for you, just cross the shoulder straps. Easy peasy.
And let's talk about the fit and feel of breastfeeding in this. All you have to do is lower baby down to your breast if they are in the position facing you or in the hip-carry position. Once they're low enough, you can get your breast out and let them nurse while they are strapped to you. If, like me, you appreciate a cover, you can drape a swaddle or nursing cover over you, or use the attached cover that lives in the front pocket and rolls out and snaps to the shoulder straps.
Pros & cons
Pros:
Machine-washable
Relatively lightweight and compact and can be stored in a diaper bag, stroller basket, etc.
Has a great zipper pouch on the front, perfect for car keys, pacifiers, phone, etc.
Has a cover you can use for shade, rain protection, privacy while baby sleeps
Adjustable for different positions with just a little button action (which is also labeled on the carrier so you don't have to pull out the instructions every time)
Baby sleeps well in it and looks adorable and people will call you "super mom"
Cons:
Even though the carrier itself is lightweight, you will sweat in this thing with a baby strapped to you. It's just going to happen.
Bending over is very hard, but that's to be expected in any carrier
The final verdict
This is the only baby carrier you need, bottom line. It can be adjusted to work for adults of all sizes carrying anything from a newborn infant to a toddler, so you can forget about all the other carriers that will market themselves to you.
I love the Ergobaby so much that I will miss it when my baby is too big. It feels like the perfect companion to motherhood — it symbolizes the way my babies have been nestled close to me while I go about the rest of my life. I've worn this through soccer games, theme parks, grocery stores, PTA functions, even in my own kitchen when baby is feeling fussy.
The TL;DR
The Ergobaby Omni 360 Carrier is a perfect baby shower gift for yourself or a friend, but it's seriously great for seasoned moms, too. Consider keeping one in the house and one in the car so that you've always got a hands-free way to tote your babe.
Had To Share highlights the products and finds that Romper editors and contributors love so much, we just had to share in the group chat.